Disavow File Generator
Enter all of your bad links now:
If you're looking forward to "generate disavow file online" or you want to create "disavow links" whatever! The tool you use must be able to work well. In this kind of situation no need to explore any other tool in Google but only the tool we're presenting here.
Our disavow file generator is one the most user-friendly and free tools to "generate disavow" that your blog needs for white hat SEO.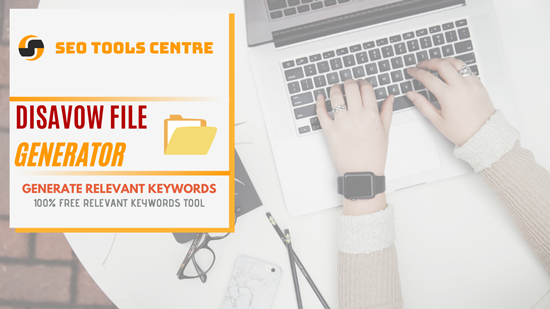 Well, if you're new to the blogging world or learning SEO then it would be better to give you the initial idea about the "disavow file generator tool" and then we'll try to give an authorized and recommended tool to use for all "spammy backlinks."
What is a Disavow File?
It is basically a text (.txt) file - allowing you to deactivate all the spammy links that are making your domain's ranking down. By disavowing bad links you can boost your website SEO strategy up the SERP ranking.
Why Should I disavow backlinks?
Making backlinks could be easy in some way but quality backlinks are challenging for all. Hundreds of spammy links might harm your website's functionality and can kill your ranking then the only option that remains is to disavow these backlinks.
Manual work can be time taking and hard like when we use a "whois checker tool", so to keep you fascinated, we've designed this tool – through, you can simply audit your blog's backlinks and then cut all the "spammy backlinks" that you really don't need further.
Checking and then removing these links is like a disavow procedure which is going to be very easy if you rely on this "Disavow Links File Generator".
Everybody knows that "spammy links" are harmful to a blog and they even penalize a blog without getting much investigation.
Similar to our health we need regular checkups to get maintained and the exact same thing is applied with a website SEO and may need some tools like domain hosting checker. Make sure SEO is changing dynamically and not the same as 10 years ago.
Initially on the first day people make a blog Google was considering it at the top without thinking a second even – but now your ranking depends on up to 200 different factors. Within all these the only we obligate is to make quality backlinks.
The good news is this!
No need to get tension because we've made this problem easy by introducing the best "Disavow Links File Generator" after reverse ip domain checker tool, which not only removes all the "links pointing to your website" but also it will give you great results as a "Disavow File Validator"
Indeed using this super amazing "online tool" will give you appropriate results but you'll be safe from all reversing penalties.
Which backlinks should I disavow?
Over time a website faces a lot of spam so that such spammy backlinks get created. You can analyze these links and then disavow a number of spammy, bad, artificial, or boot-making links that are directly concerning to your site. These links are not good signs for Google and they have to be removed even after "submit to Google."
How long does Google take to disavow links?
It is a long process and we have to wait for the Google algorithm, to trust again on the blog you've made. The disavow links effect will be entirely reduced within a few days but for significant results, you have to wait for 2 – 3 months. Make sure the disavowing may relay on domain authority so, start work manually on it and adopt some advanced SEO methods.
How to create disavow file using SEO Tools Centre? [Step By Step]
Make sure that this amazing tool is used to "create a Disavow File Online." Manual tasks could be time-taking and challenging so, it is always recommended to choose this tool. Many websites are using this "Google disavow tool" and creating Google disavow formatted files – particularly if you want to have the same then follow the given steps.
Step 1: First of all, go to the SEO Tools Centre home page and search for disavow file generator. Please select "disavow file generator" https://seotoolscentre.com/disavow-file-generator-online from the list. Many links will appear below but you have to get enter this genuine tool only.

Step: 2 You can put both a domain and URLs for disavow section but make sure everything will be written in lines.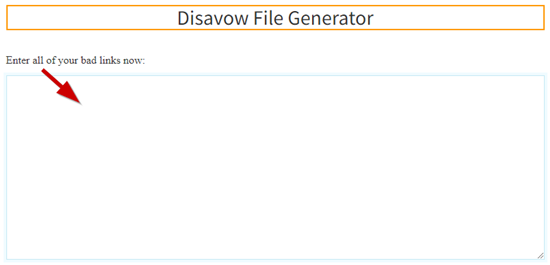 Step: 3 Once you put all the unwanted "external links" or "bad links" in the given section, simply press the (create disavow file) button.

Step 4: Within the next couple of minutes this advanced tool will create disavow file format – just download it and upload it into the "Google search console disavow backlinks section."

Please note: Before putting external links or a file keep in mind that disavowing a genuine link may badly affect your website's SEO.
How to upload disavow file to the Google Search console?
Uploading the disavow file to the search console is super easy.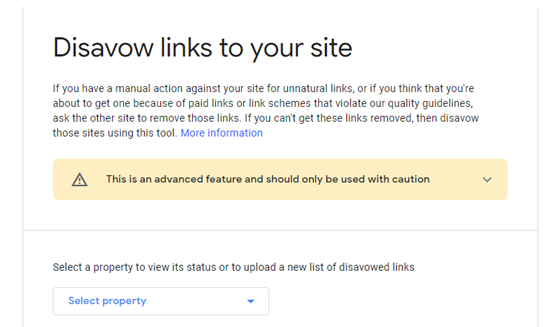 Select the property and upload disavow file or replace it with the existing file that's it.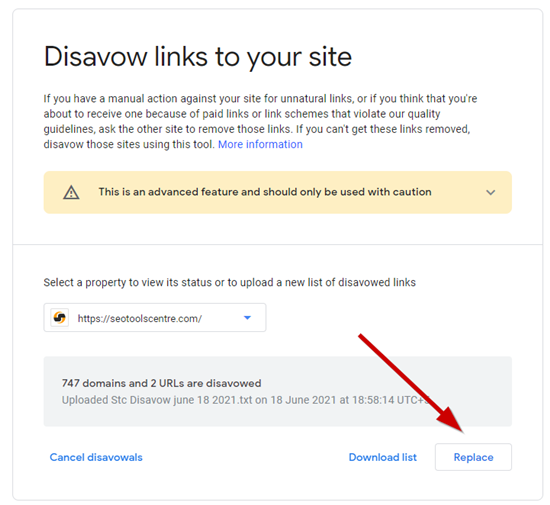 FAQs for SEO Tools Centre disavow file generator
Given FAQs are specially added for giving you further information, don't leave the page until you get to the end of this helping tool article.
How do I create a disavow file?
It is all simple; you can create a disavow file by using this super-amazing free tool.
What is the use of disavow tool?
The use process of this tool is very simple as we mentioned above. Hope it will give you great facility in doing SEO of any website.
How long does it take for disavow tool to work?
This "disavow links file generator" tool is made genuinely same as our domain authority checker tool and available for free. You can use it whenever you want to – like there is no expiry date that can make it stop working.
How do I know if a domain is toxic?
You can simply check the domain toxicity within some online tools and then for checking domain age you can rely on domain age checker tool.
This is all for this tool hope you'll are now all informed if still any question you have please feel free to let us know.