Essay Rewriter
Paste (Ctrl + V) your article below then click Submit to watch this article rewriter do it's thing!
Essay Rewriter Online is a free tool by SEO Tools Centre that will help you rewrite sentences, essays, papers, and web content in a unique, engaging, and completely natural way.
What is an Essay Rewriter Tool?
It is quite hard to come up with unique and engaging content consistently. It doesn't matter how creative you are, writer's block can happen to anyone anytime.
And on top of that, if you are on a deadline, creating quality content can become even more difficult for you.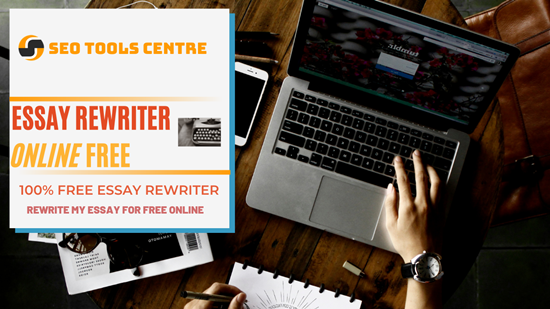 This is where the SEO Tools Centre Rewriter Tool comes in!
The essay rewriting tool helps you rephrase an existing piece of content in a unique and engaging way while maintaining the central idea and the natural content tone.
If you have a piece of content and you are having a hard time rewriting it, you can use our essay editing tool to do that.
AI-Based Automatic Essay Reviser
Online Essay editing tool by SEO Tools Centre uses Artificial Intelligence and NLP to rewrite articles in the most effective way.
Unlike most free paraphrasing tools, this article rewriter makes sure to give you quality content based on the original text.
This tool makes essay rewriting simple and easy for everyone. And with AI-based rephrasing, you get output that feels close to human-like writing. The rewritten essays via this tool are high quality and engaging.
Why Use SEO Tools Centre Essays Rewriting Tool?
Great Learning Tool
Essay rewrite tool is designed to help writers get inspiration for writing an existing idea differently. This tool makes article rewriting simple and the users of this tool can use it to learn about unique and new ways to express an idea. This tool uses rich terms to rephrase an ordinary piece of content. Learning about all that can help you take your writing skills to the next level.
Useful for Academic Purposes
This tool is great for students because they often have to write on topics that are already on the internet. For example, most of the assigned school, e.g. bow valley college essay writing guides are already on the internet.
It doesn't make sense to rewrite them again. So, if you are on a deadline and you don't have the time to rewrite yourself, you can the article rewriter tool to rewrite the academic documents.
Beneficial for Content Marketers
Search Engines require your online platform to have a lot of content before they rank your website. This puts a lot of pressure on content marketers because they have to come up with unique content to stay on top of the search results.
Content Marketers can use the essay word changer tool to reword blog posts to create readable text from existing ideas. This tool is smarter than an average text spinner because it maintains the essay structure and gives you output that seems perfectly natural. So, this tool can be incredibly useful for content marketers and search engine optimization experts.
How to rewrite an essay online to avoid plagiarism? [Step By Step]

Write the essay in the text box.

You can also copy and paste essays into the tool.

Choose the language you want to rewrite the essay in.

Click on Rewrite My Essay.

Wait for a few seconds to get the output. Apply suggestions from the list available.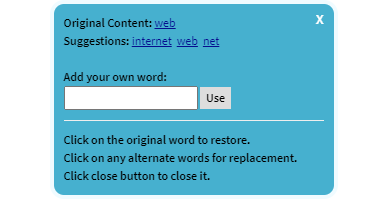 Download your unique rewritten essay.

Benefits of Essay Structure Rewriter Tool
Fast Bulk Content Creation
Essay rephrasing is great for generating bulk content fast. You can use this tool as many times as you want, to rewrite any length of content. This is what makes this paraphrasing tool great for rewriting essays.
Natural Content Tone
Our tool uses the latest AI technology to rewrite a piece of content while maintaining its natural tone. This tool doesn't change the content of the essays, unlike most free tools that you find out there. The content output of this tool looks natural and is of high quality in terms of readability.
Free Usage 24/7
This tool is free to use 24/7. This tool removes the need for manual rewriting which is time-consuming. Unlike most article spinner tools; this rewrite is available 24/7. The reworded content is not detectable by any kind of SEO plagiarism checker because it is unique.
Supports Multiple Languages
Currently, the SEO Tools Centre essay reviser supports rewriting in about 7 different languages. You can enter content for any of these languages and the tool will rewrite it for you. We have added the support for more languages in the future so, stay tuned for that.
No Need to Install a Software
You don't need to install additional software to use SEO Tools Centre essay tool. This tool will help your online platform gain search engine exposure without having to manually create unique content all the time. You can use it on your PC or mobile phone to reword a word and phrase in a short amount of time.
Interactive User Interface
The user interface of the rewrite my essay is simple and user-friendly as the article rewriter. The interactive and engaging UI design makes the rewriting job simpler for everyone.
SEO Tools Centre Essay Editor Frequently Asked Questions:
How Do You Reword an Essay?
You can reword an essay by placing it in our tool. Once you copy and paste the essay in the tool, it will help you reword it in a fast and reliable way.
What Is the Best Free Essay Rewriter?
The essay editor online by SEO Tools Centre is the best free essay editing tool that you can find out there. This tool helps you paraphrase online without any kind of subscription charges. The generated content will pass the tests from all grammar checker and plagiarism checker tools.
How Do You Rewrite an Article Without Plagiarizing?
If you want to remove plagiarism online, you can use the essay rephrasing. This tool rewrites existing content while making sure that it doesn't have any kind of plagiarism in it.
When Do You Do a Rewrite for an Essay?
When you have to rewrite a given essay in your own words, you'd need to rewrite it. You can use the online essay paraphrasing tool to rewrite the essay in a short amount of time.