Paraphrase Tool
Paste (Ctrl + V) your article below then click Submit to watch this article rewriter do it's thing!
Welcome to the SEO Tools Centre free online best paraphrase tool. This tool helps you to paraphrase your articles, assignments, essays and any other content with super-fast speed. You don't need to spend a single penny to rewrite your content without any fear of plagiarism.
SEOToolsCentre's content spinner Support The Following 7 Language: English, Dutch, French, Spanish, German, Turkish and Indonesian.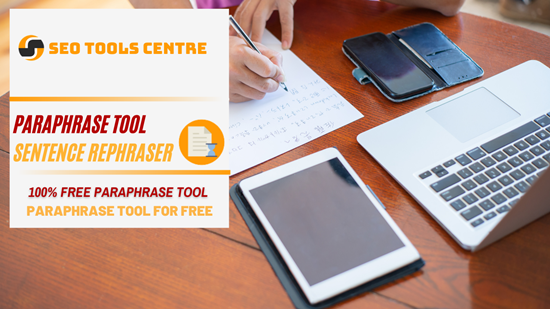 What is Paraphrasing?
Paraphrasing is a unique term for content rewriting. Rewriting means expressing someone's thoughts into your words. Let me explain it through an example:
Suppose you just watched a movie and wanted to let your audience knows what the story of the film is and how you feel after watching it.
To explain it you will use your words that one which was used in the movie or play. It is known as paraphrasing. In paraphrasing, only the words changed not the theme or story of the event like the word changing tool.
How to do you paraphrase using the SEO tools centre paraphrase tool?
SEOToolsCentre's sentence rewording tool is a useful gadget that will help you in paraphrasing the contents of your demand. Rephrasing is done just to present or explain the idea or concept in an excellent way in which the original author succeeded/failed due to some reason.
This tool will overcome the mistakes that were done in the original article. The number of words varies accordingly. The rephrased contents may contain the more/less number of words than the original.
The important thing is that you can compare it with a summary because no reference is provided in rephrasing and it is because you are using your words not the original writer.
You are just explaining his ideas. And this tool will let you do this and make your work easy.
How to paraphrase the articles & thesis using SEO Tools Centre?
It's so simple as the child's play, just copy and paste the text or upload the file,
Click the spin button.
Wait for a few seconds.
Apply the suggestions.
Check for plagiarism.
Download the plagiarism-free paraphrased text file or HTML file, and that's it. Anyhow if you have any issue in the understanding you may check the SEOToolsCentre video guide on the Vimeo about how to use the SEOToolsCentre rephrasing tool.
How to paraphrase effectively?
Well! It is the primary topic, and many writers wrote on it. Let me explain it to you briefly.
Read the points carefully
First read the article, essay, web content or any other material you want to rewrite. Read it, again and again, to get a full understanding of the topic and thing the writer want to explain.
Now it's time to make some notes. Keep the original article aside and write what you remember in your own words. These are the notes that will help you further.
Now the real task is here. Write the main keyword on the top of the note board as the title. Summarize the topic in your mind and collects some related words that you are going to use in writing. Start writing and finish it.
After finishing match your written article to the original one. Make sure you have explained the theme of the content appropriately.
Never try to change the main theme of the article.
If you want to use the original words than using quotation marks to give credit to the original writer. This will make your article more useful. If you don't do quoting and use the original words that thing will happen vice versa.
Write down the source on the note board before start writing. IT will be helpful in giving credit when you want to use the original words.
I think now you have understood what paraphrasing is and how to do it. Now let's discuss come Pros and Cons of it.
PRO and Cons of best paraphrasing tool:
Pros:
Article rewriting is the one that gives you the best opportunity to increase your realization about the topic you want to rewrite. It's the universal truth that if you write an issue in your words than your knowledge about that topic increases.
A quotation is a tough job as compared to the paraphrasing. Rephrasing is flexible and easy to remember in the future, the reason behind this that you don't have to remember the original words all the time and no one forgets what he/lots write.
The most significant advantage is that you can decrease or increase the number of words than the original one according to your need or ease.
Now the last one but not the least and it is the one due to which you need the tool. Rephrasing is a hard job to do manually. But using this online tool will make it easy for you and guess what you don't need to spend your precious money to rewrite an article.
Cons:
As everything has its Pros and Cons, likewise Paraphrasing also has some drawbacks. Let's get to know about them.
One of the main Cons of Paraphrasing is that the idea of the topic can be changed mistakenly during rewriting. If you think it is easy to paraphrase than you are on the wrong path as it is a tough job to in matter to keep the theme unchanged. You need to be very careful while paraphrasing and it's not a thing that everyone can do.

If the original content has the power of explanation due to its context and words written in it than quotation is the best way instead of Paraphrasing. You will lose the article quality if the original one is precise and accurate.
Is this rephrase tool helpful?
If you remember the step of effective rephrasing that I discussed above, then you will get aware that it is sturdy to write any text into your own words especially when you have to write lots of words in a short period. Anyone who is rewriting the content can make a mistake at any time at any point without noticing it.
Therefore, it is beneficial to use this rephrasing tool to write the task. Use the SEO Tools Centre to get your essay written without any investment and within no time.
This Paraphrasing tool is very practical to use as it is fast and vigilant. It is a beneficial tool which is used by many professionals to complete their targets like essays, articles, assignment and web contents.
Why should you use this sentence rephrase tool in 2021?
If you are right in writing, have excellent English and know how to rewrite an article effectively without losing the idea of the text, then you don't need to use this tool. You can use it to increase your knowledge and vocabulary, but this gadget is specially made for those who don't know how to paraphrase the article or are not good in English.
Get Plagiarism Free Contents:
Yes! You read it right. This Paraphrasing tool delivers plagiarism free work. It contains millions of words and synonyms, and this is why it gives work free of plagiarism.
Follow the instruction while paraphrasing
Choose a high-quality article to rewrite it by using this paraphrasing tool.
Read the article carefully after rephrasing it.
Do not paraphrase the article many times as it will end up the lowest quality article.
At the end checks for plagiarism.
How does this paraphraser tool work?
It works in a very pragmatic way. Once you paste your article into the box it will scan it and rewrite it and delivered the rewritten content in the next block.
Paraphrasing Tool FAQ
What is the best paraphrasing tool?
Finding a reasonable paraphrasing tool is quite hard these days simply because there are so many choices available. What you need is a smart tool that understands your content and creates a reasonable and unique copy of the content. Our paraphrasing tool is a decent tool that understands your content and paraphrases it into a decent piece of writing while maintaining the core idea behind the content.
Can Turnitin detect the paraphrasing tool?
We have run many tests while developing our paraphrasing tool. Where most tools fail to remain under the radar and get detected by Turnitin, our tool has proven to be much more safe and secure. It remains undetectable even by Turnitin.
How does a paraphrasing tool work?
An article rewriter comprehensively analyzes your content and generates a unique replica of it in terms of core ideas but different wording. The generated content remains plagiarism-free and can be published online without any copyright risks or issues.
How to use this rephrase tool?
In order to use the paraphrasing tool, you first need to copy your content into the specified area of the tool and then hit enter. The tools would go through your content and change each word with its synonym. This way you'll get brand new content within a matter of seconds.
How to paraphrase a paragraph?
It doesn't matter whether it is a sentence, paragraph, essay or even a thesis, the process of paraphrasing is the same for all sorts of writings. Just put in your content in the tool and it'll take care of the rest for you. You can also upload entire word documents in the tool. For that, click on the upload document and select the document from your PC and that's all.
How to paraphrase using SEO tools centre step by step (With Pictures)?
It is effortless to use.
1. First, go to the home page.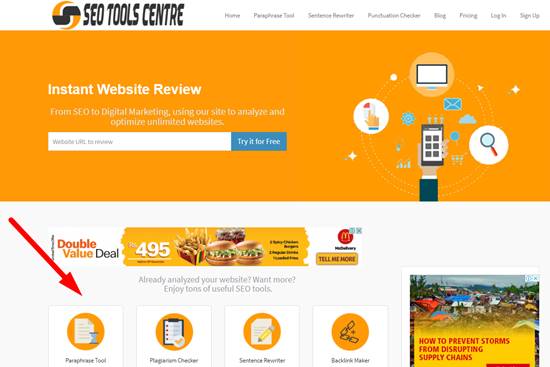 2. Select the "sentence paraphraser tool".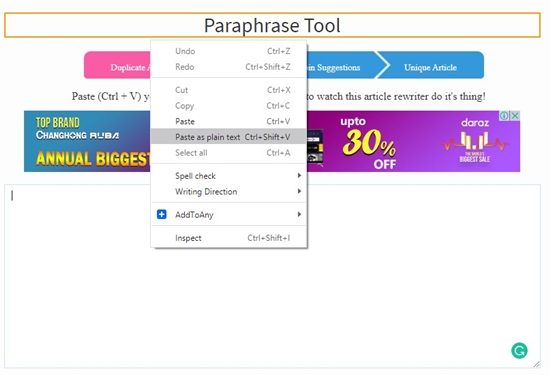 3. Copy and paste the content into the box.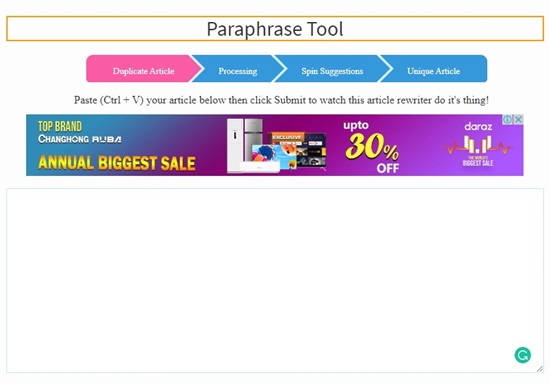 4. Select your favourite language.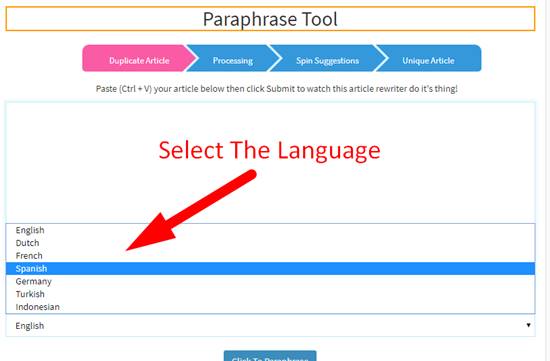 5. Click the "click to paraphrase" button to paraphrase.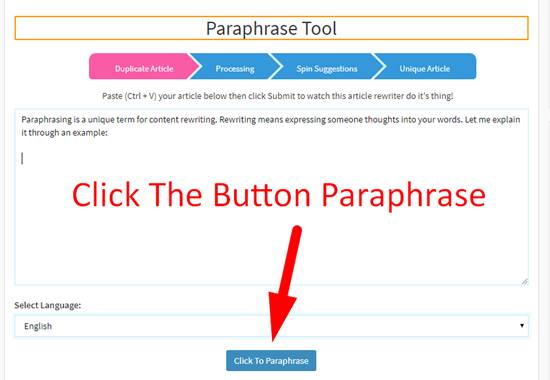 6. Apply your favourite suggestion.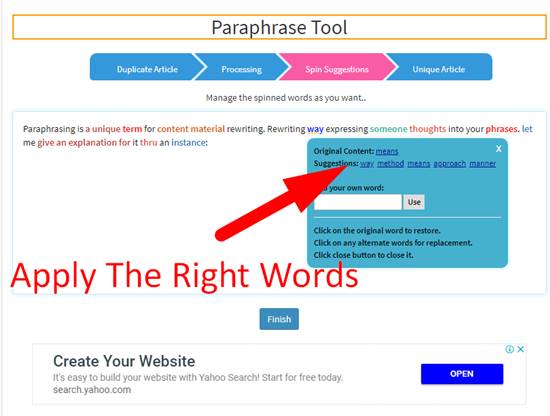 7. Check for plagiarism if you want to analyze for the duplicate content issue.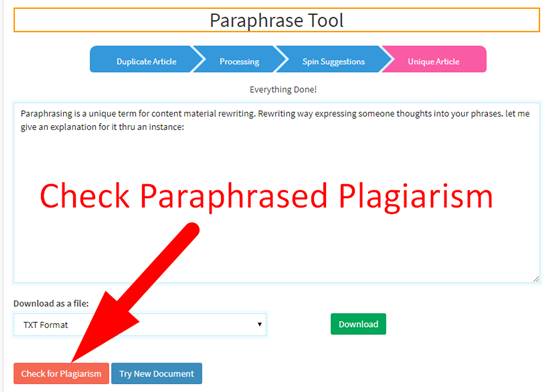 SEO Tools Centre paraphraser tool can be used easily to get your new required content without knowing any rocket science. Just upload the text file or copy your content and paste it into the box.
After pasting the article into the box and click on the "paraphrase" button to obtain the results. The result will be shown on the screen within no time.
Finals Words: There are many tools available online for paraphrasing, but it is the one on which you can trust. It will help you rank first in search engines like Google. On one side this tool will save your precious time, and on the other side, it also saves the money that you gave to writers.
Hope, you will understand it in a better way and has no question left. We tried our best to explain all about this tool and paraphrasing in a better way. But still, if you have some problem you can contact us.
We at SEO Tools Centre are very grateful for your tolerance. We hope that you use this tool and find it very useful to write the content for your site or project. If that so then, please let us know and also give suggestions if you think we need to improve. You can do that by commenting in the comment box provided below.
If you want to check for the plagiarism you can plagiarism tool by seo tools centre and can also use many other tools to get the high rank in the search engine. Hope you'll like it.