Plagiarism Changer
Paste (Ctrl + V) your article below then click Submit to watch this article rewriter do it's thing!
Master the Craft of Article Rewriting with our free online plagiarism remover Tool! The plagiarism changer online is a free paraphrasing tool by SEO Tools Centre that would allow you to rewrite sentences, paragraphs and even entire essays, in a short amount of time. This tool keeps the tone of the content natural and produces quality content that is engaging for the reader.
Plagiarism Remover Online – Simple Solution for Text Paraphrasing
Paraphrasing is the art of taking an idea and expressing it in your own words so, that people can read it from a different point of view which might make them understand the idea a little bit better. You can reword content manually or you can use free online paraphrasing tools for this purpose.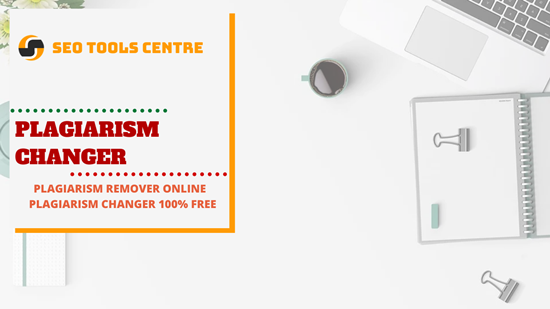 Rewording or paraphrasing content manually can take hours. And if you are on a deadline and you can't seem to make time for paraphrasing, going to free online article rewriter tools is your best bet.
This is where our magical plagiarism eraser tool comes into play. With this free tool, you'd be able to reword content of any length that you want to, with ease.
0% Plagiarism Content Changer
Creating unique content on a consistent basis is not easy. Every freelance content writer and SEO expert and professional writers are aware of it. Using paraphrasing tools can give you an easy way of coming up with new ideas to rewrite the content. You can use these tools to create plagiarism free content in a short amount of time.
When you have hit a writer's block and you can't seem to find decent words to rewrite an idea, our free online plagiarism changer generator will help you rewrite your content in an effective way and would generate unique content after strict grammar checking. Avoiding plagiarism in content is now easier than ever.
Complete Essay Duplicate Remover
Do you have an essay that you want to remove plagiarism? Great! The Essay Word Changer Tool by SEO Tools Centre can help you do exactly that. Just copy and paste your essay in this tool and it will take care of the rest.
Paragraph Plagiarism Remover
Sometimes you are writing an essay and you just don't like a certain part of it that. You know that you could've said it in a better way, still you just can't seem to find the right words for it.
You can copy and paste the original text of your essay in this tool and once the processing is done, you'll see more ways you can write the same content in a much better way.
Benefits of Plagiarism Fixer Online
100% Plagiarism Free Content: Online duplicate content changer by SEO Tools Centre will help you come up with 100% unique and plagiarism free content. With this tool, the content generated would be totally unique and would still look totally normal. Paraphrase online easily with our best plag changer online.
Easy to use Web App: This tool is an easy to use web app that works on most platforms. You can use this app on Windows PC, Mac and even on mobile device. The ease of use of this tool is what makes it stand out.
Free to Use: Getting tired of paying for content rewriter services? Try out our content plag changer Tool for free. We don't charge our users anything for using these basic free Tools.
Rich Library of Unique Words: Our free article plag remover tool contains a massive library of rare words that it uses to paraphrase the word or phrase in the original content in a natural way. The content generated via this tool would look and feel completely natural, as if a human being had reworded it.
No Installation Required: This tool works on our super-fast Web servers and it doesn't need to be installed on your PC. You just need a web browser and active internet connection for using this tool.
How to use SEOToolsCentre's Plagiarism Changer Online?
First Of All Select the Plagiarism Changer https://seotoolscentre.com/plagiarism-changer.

Write your Content in the Textbox.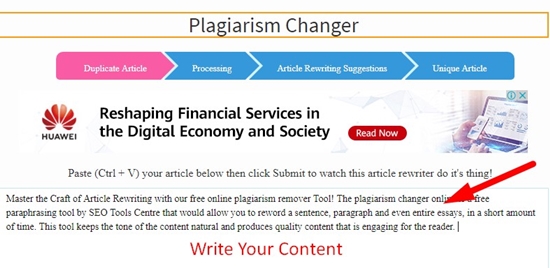 You can also copy and paste the content.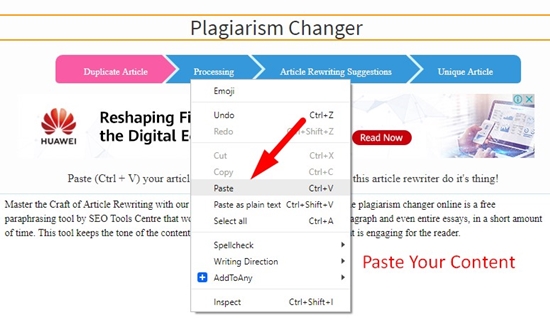 Select the Language.

Click the button to Begin Processing.

Output content would be shown to you after processing.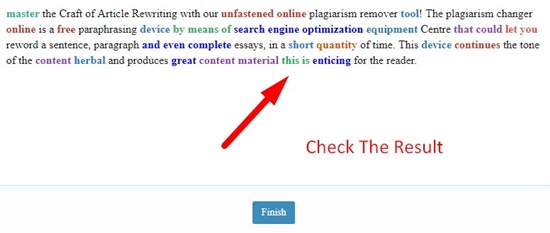 Download Your Content.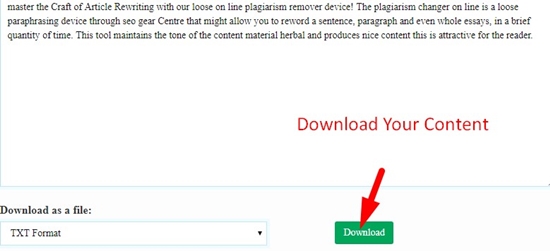 FAQS
What is the content plagiarism remover?
The plagiarism changer tool is a powerful online web app by SEO Tools Centre that allows you to generate unique content in an easy and simple way. This tool paraphrases the content while maintaining its natural tone.
Is there a website that will reword sentences?
Yes, SEO Tools Centre is the best website that features a lot of content paraphrasing and article rewriting tools that can be used to reword sentences.
Is there an app that can reword sentences?
The plagiarism changer Too by SEO Tools Centre is a Web App that can reword sentences in a natural manner. Unlike most article spinner tools, this tool can be used to reword single words, sentences, paragraphs and even large amount of text.
How do you rewrite an article without plagiarizing?
You can manually rewrite it while changing the words in it with synonyms and changing the sentence structure a little bit. You can also use the plagiarism remover by SEO tool for easily rewriting an article without Plagiarism.
How do you rewrite something in your own words?
You need to have a rich vocabulary and a comprehensive understanding of the language for that. You take a piece of writing extract out its idea and the points discussed in it, and then you just go on and rewrite in your own way.