AI Sentence Rewriter
Paste (Ctrl + V) your article below then click Submit to watch this article rewriter do it's thing!
A sentence rewriter is a tool that might help you to rewrite or rephrase something. These types of tools are available online; some can be paid for and some free. Each tool has a different layout and rewriting procedure, but all have the same basic features.
If you're a new content writer and want to get some idea about creating unique content, then let me give you an excellent rewriting tool of this era.
Sentence rewriter generator is the best tool available online that will enhance your writing ability for free and make you able to earn more in the online field. There are many ways to make online writing articles or blog post one of the best freelance businesses in the online field. As it is the Search engine optimization is the best way to earn money, there is a lot of competition due to which a writer always has to come up with something unique and knowledgeable.
What is AI Sentence Rewriter?
If you are a newbie in the field of ai writing, there's no doubt you are facing a lot of problems in developing quality content. However, there's another highly underrated issue; writing sentences with proper format and structure.
In this regard, along with improving your grammar, AI sentence rewriter is one of the most efficient tool available to write high quality content. Besides enhancing your content, you can write like a professional with writer's block.
So, what the tool actually does is reword your sentence and generate content in the proper order while avoiding plagiarism thoroughly. On top, the AI tool provides most of the features you are looking for, so there's no need for further assistance.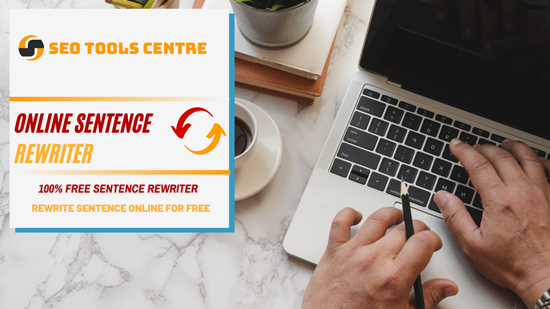 SEOToolsCentre's Sentence Rewriter Offers The Support For The Following 7 Languages: English, Dutch, French, Spanish, German, Turkish and Indonesian.
Why use the best sentence rewording tool?
There are many reasons to use this fantastic tool. Millions of people in the world are related to writing jobs and use different tools to create unique and grammar mistakes free article. This tool will create unique content for you instantly and make you able to post a high-quality article on your site that will increase your viewer's interest and automatically increase your importance in search engines that will positively affect your income.
There are numerous other reasons behind using an online paragraph rewording tool. Like it is the most simple and easy to use tool among all article spinner tools available in the market.
It gives results in seconds which help you create more and more unique content for your site in no time.
It is free to use tool that makes it more appropriate for use, and it is 100% reliable, that means it gives a result that will not harm your site.
How does SEO Tools Centre sentence rewriter works?
It works on some simple circumstances to provide you with quality work. When you paste, an article that you want to rewrite, it starts analyzing the sentences and paragraphs, after that it finds the better word pair for the sentences to make them unique.
This tool has millions of synonyms you can select to make your article more readable and unique according to your requirements.
How to rewrite the sentence using the SEO Tools Centre?
To avoid plagiarism, the only possible way is to rewrite unique and different content compared to competitors. However, with the assistance of an AI sentence rewriter, there's a feature that can assist greatly. The feature automatic sentence rewriter completely removes plagiarism. And doing that only requires the following a few simple steps. It is very easy to use this free online sentence rewriting tool.
Step 1: To do that, click on the Sentence Rewriter https://seotoolscentre.com/sentence-rewriter option. After that, copy the piece of content you are willing to rewrite; that can even be a sentence or a small passage. Then, paste it on the blank sheet that's shown on the screen.

Step 2: Just copy the text, sentence, or paragraph you want to rewrite.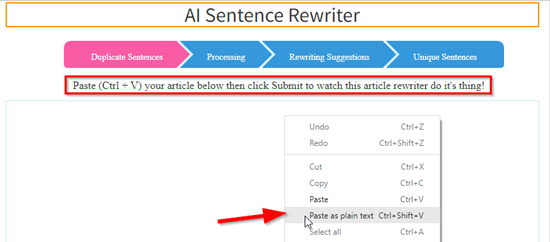 Step 3: "Copy And Paste your sentence/paragraph" into the given box in the tool.

Step 4: Press Enter or hit the "rewrite sentence now" button.

Step 5: Wait for some seconds. It instantly starts giving "suggestions" according to the sentence or paragraph. Click submit and the procedure will start. After that, you will also be provided with fresh content, on top of several suggestions to give a clear idea.

Step 6: Then, you use those "suggestions" to get an entirely new and unique sentence or paragraph.

Step 7: Now, you just have to download the content rewritten by the tool, and that's it. Unlike the typical tool. The AI sentence rewriter supports millions of synonyms and suggestions to improve the quality of the content. Hence, without any doubt, it is one of the best sentence rewriter tools available online.

After downloading the final document, which is rewritten, you may rewrite another sentence or paragraph by clicking the "Try New document."

We have added millions of new synonyms and word suggestions in this paragraph rewriter tool to improve its quality and to give a whole new experience to you. Now you can make or revise an article more accurately and rewrite articles as many as you want.
SEO Tools Centre AI Sentence Rewriter FAQs
How do you rewrite a sentence without changing the meaning?
To deal with this problem, the AI Sentence Rewriter has a specific tool to address it. If you want to rewrite a sentence or even a paragraph without changing its meaning, consider using the free paraphrasing tool. To do that, there are four simple steps you have to follow.
Firstly, by using the "Ctrl+V" command, copy the duplicate article and that's most of the part you have to do by your side.
The rephrase tool starts processing the content you have added at the back end.
You will be provided with several spin suggestions, so in case of any edits you want, these options are also available for such experiences.
Last but not least, you will be provided with a copy of the unique articles.
How do you rewrite an article without plagiarizing?
Although doing it practically you have to start from scratch by generating new ideas and writing them as your own. However, using the sentence rewriter tool can save a lot of your time. Although with the help of a single tool you can rewrite an article without plagiarizing, several of them are available.
Therefore, you can take help from the essay word changer, the paraphrasing tool, along with many others. Several suggestions are provided, plus you can add your words to the content if you want to.
How to rewrite sentences correctly rewrite sentences online?
To correctly write the content without getting grammatical errors and other bugs. The main tool is the AI sentence rewriter is the best option. It change the sentence structure and corrects the mistakes during the process. Whereas, working with the tool is super-efficient and easy to work with. Copy the content or sentences you want to rewrite and paste them into the given space.
The tool will take some time for processing purposes while providing multiple suggestions and millions of synonyms. Moreover, at the first read, you will read the content is reader-friendly and easy to understand.
Is there a website that can reword sentences?
Yes, when you visit the SEO TOOL CENTRE website although you can experience multiple tools to improve your content. However, talking about specifics for rewording purposes there are specific options available. The word changer allows changing every word, paragraph, and short sentence.
On top of that, the content is optimized in such a manner it's more engaging and readable. Whereas the tool deals with all types of content whether it's for academic purposes or business proposals.
Can I Reword the sentence to avoid plagiarism?
Yes! The presence of plagiarism in the content can create multiple issues. However, the major problem is the website is not going to get ranked on Google. Hence, it's necessary to properly remove plagiarism from the sites.
For assistance, the AI tool has a plagiarism free content solution. This feature not only rewords the sentences but to give a proper format and meaning, synonyms are added that fit the description. Also, the best rewording tool gives results in a few seconds and provides unique content. Just like the other features, it's also free to use and is 100% reliable.
Can I use Sentence changer to avoid plagiarism?
If you are facing the question that I have to retype my sentence over and over but still can't get rid of plagiarism. To tackle that consider using the sentence changer that's provided on the website. Just as you write naturally, the tool will provide you with unique content that is engaging, and carries the tone according to the duplicated writing style. In this way, you can avoid plagiarism in no time.
How Sentence rewriter works to change with the same meaning?
Many people who use rewriter tools show their concerns that the content they get is not much satisfying or it's not as meaningful as the original content. But, the sentence reworder tool a AI tool provides the same meaning but with a better tone, and an appropriate writing style that grabs the reader's attention to keep reading the content.
Overall, it's a great option to consider if you are looking for the same meaning.