Complex Sentence Generator
Paste (Ctrl + V) your article below then click Submit to watch this article rewriter do it's thing!
Welcome to Complex Sentence Generator Tool by SEO Tools Centre. It is a free word rewriter tool that can effectively paraphrase sentences, paragraphs and even complete articles.
This tool will help you instantly rewrite or rephrase sentences in a meaningful way, without affecting the idea behind those sentences.
SEOToolsCentre's Complex Sentence Generator Features
Do you ever find yourself struggling hard to find appropriate words to convey your message? You have an idea about what you want to say, you even have the words, but those words are just not powerful enough to convey your point. How can you make sure that you convey your message with just the right words?
This is where the smart sentence maker by SEO Tools Centre comes into play.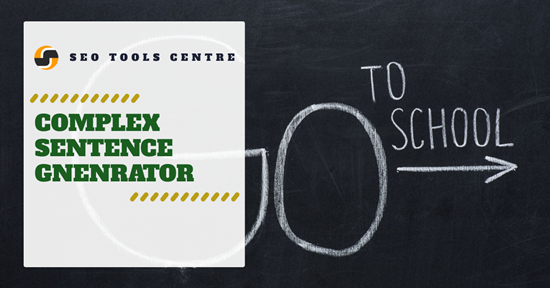 This tool features a huge library of rare words, phrases and the artificial intelligence part of the tool uses these words in a complex format to create complex sentences that add new life to your basic choice of words.
A compound sentence converter is a comprehensive tool and its scope of benefits spans across multiple fields.
Why Use SEO Tools Centre Sentence Generator?
Although the CS generator is primarily meant to be used as an educational tool, it can also be used in a variety of other ways.
For example, SEO experts and content creators can use this tool to come with new content ideas and even use existing content in a unique and different way. This tool would help you save time and effort, coming up with the same content. With this sentence generator, you can copy the old content and the tool would convert the content into smart and meaningful sentences that can be used on any website you want.
The biggest benefit of this AI based tool is, the content structure doesn't get affected. Smart Sentence creator used powerful artificial intelligence components which make sure that the content tone and structure remain natural. The complex sentences are generated based on context, so you won't have to worry about losing the idea behind the content.
This tool has a massive library of words, phrases and sentences with it which matches your content with, to come up with complex sentences that make sense.
You can use this tool to learn new words or phrases, synonyms and definitions for words that you might have never heard before.
How to use SEO Tools Centre complex sentence maker?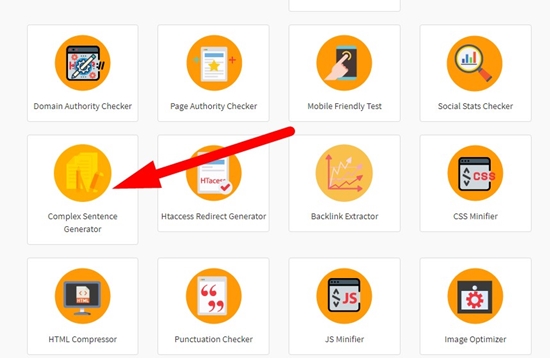 Write the text or copy and paste the content in the given text box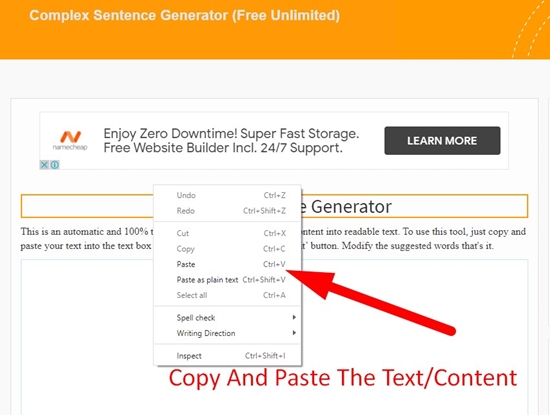 Copy the text that you want to convert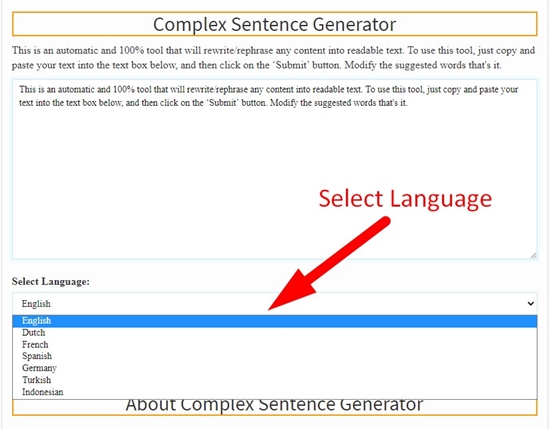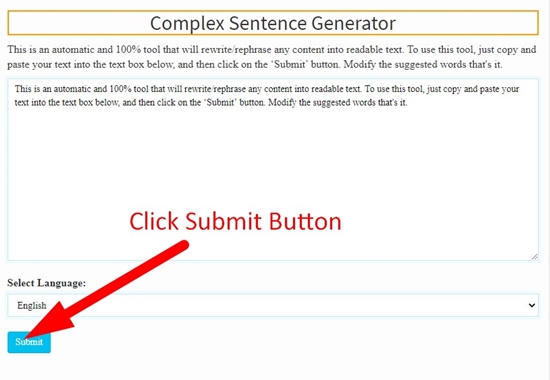 Wait for the tool to finish processing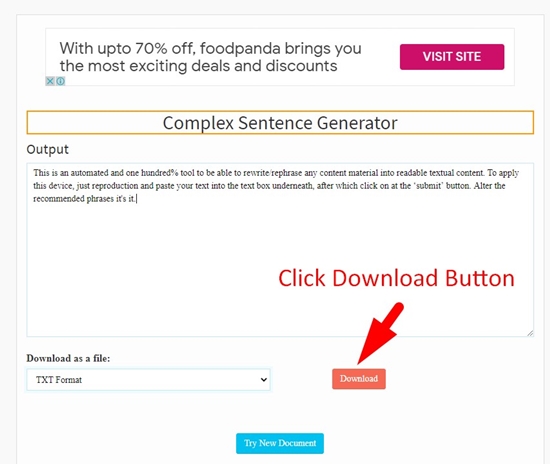 Copy the converted content or download and use it however you want to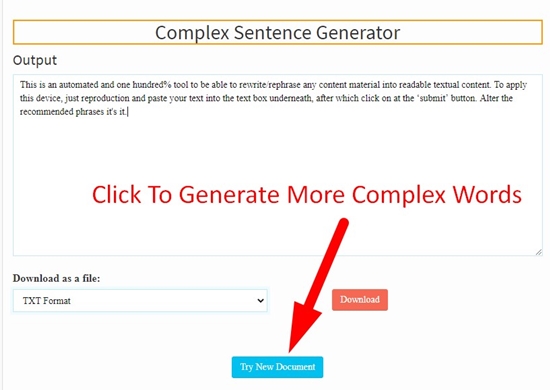 That's all there is to it. This is how you can use this normal sentence in complex sentences.
Benefits of compound sentence generator by SEO Tools Centre
Free to use: It is free to use and available for access 24/7
Smart Software: Creates unique and complex sentences in a smart way. Doesn't destroy the meaning behind a sentence unlike most online content paraphrasing tools
Huge Library of Words: Contains a massive library of words and phrases which it uses to come up with complex sentences with rare words
No Registration Needed: You don't need registration for using this tool. Simply just visit our website and start using the tool
Complicated Sentence Generator FAQs
What is a CS Generator?
Complex text generator is an online tool that atomically generates complex sentences based on the text that you enter in the tool. The idea behind complex sentence generation is to help people learn new words and to quickly generate new content from the old ones.
How can you automatically generate complex sentences?
You can use the sentence generator online tool by SEO tools centre for this purpose. The tool is simple to use, it is free and doesn't require registration.
How does complex sentence maker work?
You need to add in the text that you want to convert in tool. The tool then matches the sentences with its huge library of words and phrases to give you unique content with complex sentences.
How to use complex sentence creator?
This tool works as similar to our sentence rephraser, You just need to add in the sentences that you want to convert, in the sentence generator. Once you do that, hit the convert button and that is it.
How to paraphrase sentences automatically?
Free online complex sentence tool would help you paraphrase sentences automatically in a unique and meaningful way.