Text to Image
Bring your text to life with our Amazing Text to Image generator tool. This tool will help you create fun images with the text that you add in this tool. Type in the text, customize it as per your personal preference, download the image and use it however you'd want to.
Text to Image Generator Online
Converting text to JPG format or in PNG was not so easy in the past. You'd have to be able to learn a little bit about professional editing software like Adobe Photoshop to make it happen.
Now, not all people are interested in learning professional software for converting text to images format. This is where out easy to use online text to image generator tool comes into play.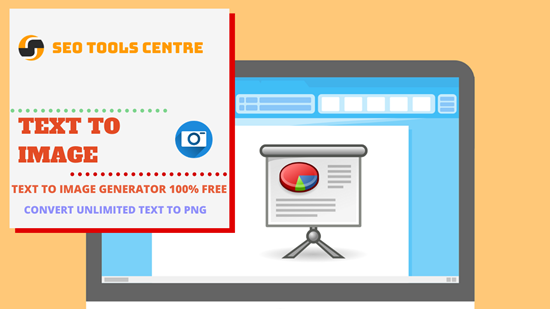 We have simplified the process of converting text to image with our free tool. With the interactive user interface and the impressive customization features of this tool, you'd be able to convert any kind of text to image that you want to.
You can use the free text to png converter tool without registering yourself on our website. You'd just need to go on to the tool, add in the text that you want to convert to the image, and you should be good to go.
Why Use SEOToolsCentre's Text to Image Converter?
With the ever-increasing competition in the digital landscape, if you are not doing something different, making your way up in the search engine rankings won't be any easy job. So, you need to use any type of content that you can i.e. textual content as well as images and videos that you can to make your platform stand out from the crowd.
You can use the free text to png converter by SEO Tools Centre to convert your textual data to images for free.
You can create engaging text-based image designs to attract more audiences and to make them stay at your website. You can create fun pictures with custom text as caption and post it on your website or blog to force search engines to consider your website for ranking.
These are just some of the things that this tool will help you do. There is no limit to the creativity that you can express with this text to png generator with transparent background or colored background. Use this tool to make a stunning style statement about your online platform in the form of engaging visuals.
Features of Text to PNG Converter By SEO Tools Centre
Free to Use: You can use this tool for free to convert text to PNG or any other image format. This converter doesn't ask you to pay any kind of charges for its use. It is available for you at SEO Tools Centre 24/7. Simply just visit the tool and start using it the way you want to. Being free to use is the biggest edge of this tool.
Awesome Text Customization Features: You would get amazing text customization options with this tool. You can change the color of the text, the font of the text, the zoom level of text, text background color as well as the background color of the entire canvas. New customization features are also being added to take your text customization experience to a whole new level.
Safe and Secure Tool: This tool has been designed to maximize the security of your private information that you add in this tool. Your created images and infomercials are not saved in our web servers. All the processing happens in the web browser. All your information would remain perfectly safe and secure.
Easy to Use Interface: We have made this tool in a way that it is easy to be used by everyone and easy to use as the png to text converter. The user interface is quite simple and easy to understand. Still, we have added a how to guide in this article for this tool for people who want to make sure that they are making the most out of all the features of this tool.
Cloud-Based Processing: Unlike professional high-end editing software, this tool runs in the web browser and doesn't use your native system resources. So, it loads up and works a lot faster than most photo editing software solution. The processing happens in efficient cloud servers which help create an intercave real-time experience for the users. If you want to optimize the text generated image the online image resizer and optimizer is the right tool for further processing.
How to Convert Text to PNG Online? [Complete Guide]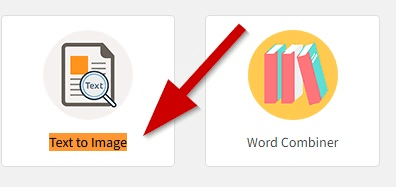 You can input the text or copy and paste the text of your choice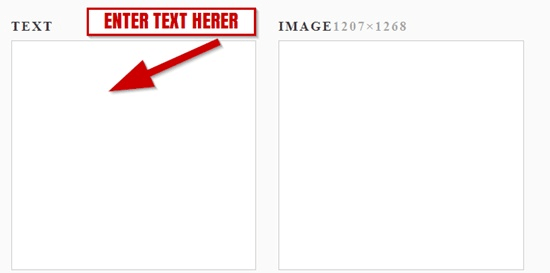 Now, choose from the background customization options including transparent or coloured provided in this tool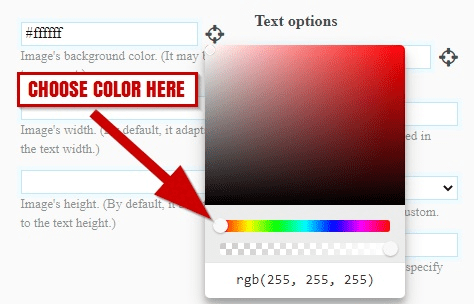 You can change text color, font size, background color etc.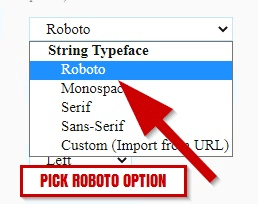 Once you are done with the customization hit the Add Text Button.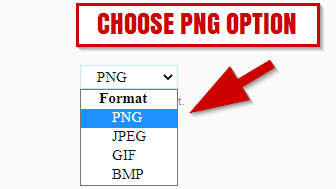 The text would be converted to the image as per your applied settings.

Download the converted image by clicking on the download button.

SEOToolsCentre's text to image FAQs
How to make text PNG?
You can make text into PNG using free text to png converter tools. The text to png tool by SEO Tools Center is the best one for this purpose.
Is JPG or PNG better for text?
When it comes to digital images, the question of which file format is better for text. JPG and PNG are both popular image file formats, but they have different advantages and disadvantages regarding long text. Below, we'll compare the two and help you make an informed decision.
PNG is better for cool text, especially in real-time applications. The format allows users to create images with a transparent background, giving the text a neat and modern look. It also supports up to 16 million colors, giving designers and developers far more flexibility to create projects with crisp lines, sharp edges, and vibrant hues.
The JPG image format has been around since the early days of digital photography and is still considered one of the most reliable and widely used file formats today. Its popularity comes in part from its small file size, which makes it a great choice for real-time applications like web pages and emails.
How to add text to a PNG file?
Text can be added to a PNG file using the text to PNG generator tools. With these tools, you can create custom text-based graphics with ease.
Where to convert text to image?
Go to SEO Tools Centre and search for our powerful text to picture generator tool. You can use this tool for free, without any maximum usage limit.
How do I convert text to PNG?
You can convert text to PNG using the text to picture generator tool by SEO Tools Centre. This tool is easy to use and makes the process of converting your written text to images simple and easy for you.
How do I convert PNG to text?
PNG to text conversion can be done using PNG to text converter tools. These tools inverse the processes used to do the Text to PNG conversion.
How do I convert text to an image?
You can convert the text to an image of any image format by using the text to online image converter tools.
How can I convert image to text online?
The text to image generator tool by SEO Tools Centre allows you to convert text to images online for free. With this tool, you can create custom attractive image design from plain text in much easier and simpler way.