Keyword Density Checker
Enter a URL
Welcome to keyword density checker tool prepared by SEO Tools Centre. Using our keyword density checker enables you to identify your keywords mistake within the articles and the entire website. This tool informs you about the exact keywords density which is used by you within your website. This tool helps you to keep safe yourself from the keyword stuffing. Keyword stuffing means the over optimization or over usage of the keyword within the content. Google doesn't like the web pages with keyword stuffing and it discourages it by applying a manual penalty.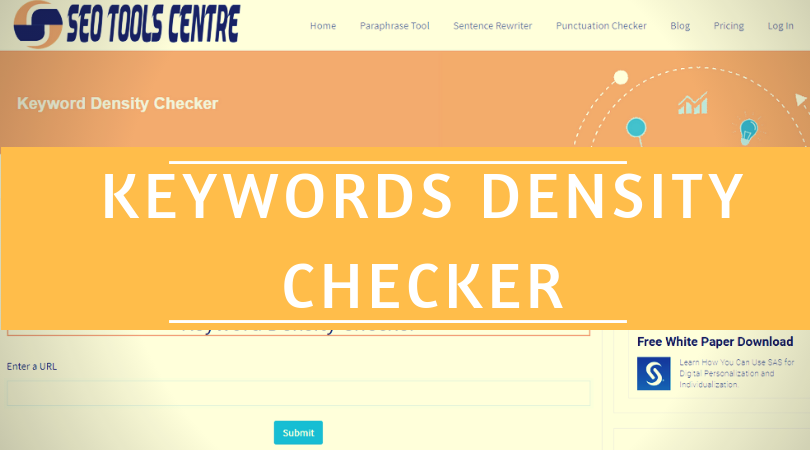 Our keyword density analyzing tool is the super-fast tool that works with a single click. It is wise to use this tool because it's better to perform this task before the Google penalty/warning. If you don't care about the exact calculation of keywords within the web content then ready for Google penalty. And it is not easy to recover from Google penalty. It takes a lot of time, money, and some professional experts to recover from Google manual penalty or algorithms updates.
The most important thing about this is that it is fast, efficient and reliable than all other available tools. It takes a few seconds to display the results and you can see the total number of the keyword used with their numbering and their exact keyword density percentage. Keyword density by SEO Tools Centre is a similar tool to the article density checker works deeply and analyze/examine your whole website for keyword percentage and display the results in the numbers with a percentage sign.
Always keep in mind that unfair usage of SEO elements always take to you on the back foot of the quality guidelines. Otherwise, all of your SEO efforts and work will go in vain because the pages with informative, entertaining, interesting and useful content will maintain its presence in search engine results.
It is wise to use SEO tools centre keyword position checker and the density tool to avoid over optimization and keywords stuffing. While there aren't specific guidelines from Google for exact keywords density. According to some SEO experts, density for primary keywords is 2-3% and secondary between 1-2%.
How to use a keyword density tool prepared by SEO Tools Centre?
The working the keyword density calculator tool is very easy to use and simple to understand. Go to the keyword density calculator page and type or paste your favourite website URL and hit the submit to obtain the percentage of the exact keywords for the entire website.



Check Your keyword density Result