Readability Checker
To use Readability Checker, Paste text in the textarea box given below and click on Test Readability Score Button.
Readability Checker Online by SEO Tools Centre offers you a rich and interactive way of testing the readability score of your text. Simply just place the text in the tool and click on the test readability button, the tool will tell you exactly how effective your text is in terms of readability levels.
The Best Free Readability Checker Online!
Testing readability level of your text can give you massive insights about the piece of writing that you have come up with. You can find out exactly how well it is going to perform when a readers comes across it.
Readability checking is equally useful for educational purposes as well as for creating digital marketing content. Our online readability checker helps you do just that!
Use our free readability checker online to learn exactly how well your text is going to perform. The readability checker by SEO Tools Centre uses Flesch Kincaid Grade Level reading ease score and Gunning Fog Score formulas and Simple Measure of Gobbledygook (SMOG Index) to determine the readability of your text (More about this later).
Why Use Reading Level Checker Of SEO Tools Centre?
The Reading Level checker is especially useful for teachers. This online readability checker uses Flesch Kincaid Reading Ease Readability formulas to determine how understandable your text is going to be for students of a certain grade. This tool tells you the exact readability score of the text and you can compare it with the Flesch Kincaid Chart to judge its understandability for certain age groups.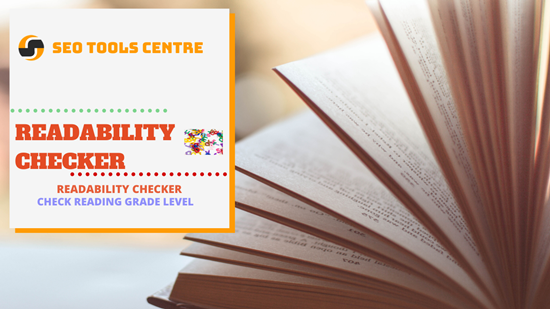 These insights about the use of active and passive voice through this tool can help you organize your text in a way that is understandable by your targeted audience.
The readability analysis also makes things amazingly simple for Digital Marketers and Freelancers. They can use this tool to word their copies in an effective way.
Check Readability Online with Ease
With the plethora of Online Reading Checker Tools out there, it gets quite hard for you to choose one. There are just so many tools out there, you just don't know which one you should go for.
Personally, we'd prefer reading level checkers that are simple to use yet look attractive. And this was our idea behind the design and development of this readability checker tool.
If you want a readability checker that is simple and fun, we recommend this tool for you. It will make the readability checking job extremely simple for you.
Flesch Kincaid Grade Level
The Flesch Kincaid Grade Level is a readability analysis scale that shows the education required to be able to understand a text. It is a scale from 0 to 100. And the higher the value, the easier would be the readability and understanding level of the text.
For example, a text with a readability score between 90 to 100 is easily readable and understandable by kids. A score of 30 and below is considered to be very difficult in terms of readability and is for college and university students. This Grade Level scale helps teachers prepare their lectures and texts in a way that is easier to understand for their students.
Our tool uses this readability test along with the Coleman Liau Index and some principles of automated readability index to determine the readability score.
How to use SEOToolsCentre's Readability Test Tool?

Copy and Paste your text into the tool.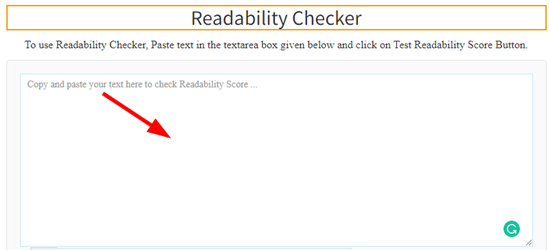 You can also upload a document.

Click on Check Readability. Wait for a few seconds.

The tool will show you the readability score.
Features of SEO Tools Centre Readability Checker Tool
Free Readability Analyzer: The readability Calculator tool by SEO Tools Centre is a free web app that doesn't cost you anything and similar to our online grammar checking tool. We have made this tool free for all users 24/7. You don't need to register or pay subscription fees for using this tool.
Easy to Use Reading Level Check: Unlike most free tools for checking readability, the user interface of this tool is simple and friendly. You can easily use this tool to measure the readability score of your text on the Flesch Kincaid Grade Level scale. The user interface is made with attractive UI elements which make things simple and fun.
Additional Services: This tool doesn't just give you the readability score, it also tells you the total number of words, syllables per word and characters in your text by analyzing the sentence length. This makes text formatting easier for the user.
Multi-Platform Support: This tool can be used on PCs as well as mobile devices. Just visit our website, navigate to this tool and start using it on any platform of your choice.
Works on Web Servers: This app runs on web servers of SEO Tools Centre. It won't use much of your system resources since it doesn't need to be natively installed on your PC.
Safe and Secure: All the data that you process and analyze with this tool would remain perfectly safe as the other tools as the punctuation fixer which is used to fix punctuation online. Our servers can't read your text and the processed data is immediately deleted once you are done using our free online readability checker.
Read Abaility Checker By SEOToolsCentre FAQs
What is the best readability test?
The Flesch Kincaid and the Gunning Fog Index score are the most used readability analysis systems out there. These tests give you the best possible information about the readability level of your text.
How do you calculate readability?
To get the readability score for your text, copy and paste it into our tool. After that, hit the test readability button and the tool will tell you the exact readability score for your text or web content.
What is the readability score?
The readability score of a text tells you how easily readable and understandable a piece of text is for a certain individual. For example, the Flesch Kincaid Grade Level analysis tells you the readability of a text for a certain grade level student. There is a defined range from 0 to 100 that shows the score of text against the grade students for which it would be easily understandable.
How do I check document readability?
To check a document readability, add the document in to our tool and hit the test readability button. The tool will take care of the rest.
How do you check readability on Google Docs?
Here is an easy way, you can use our readability checker tool and add your google docs text in it. The tool will give you the exact tested readability score for the text. After that, you can adjust the readability and the copy and paste your content in the Google Docs again.