Grammar Checker
Enter your text:
(or)
Upload a document: (Supported Format: .doc, .docx, .txt)
Welcome to SEO tools Centre grammar checker tool which is used to detect and fix spelling and grammar errors for your articles, essay, assignments, and papers. It's proudly designed by SEO tools Centre to check grammar mistakes and spelling errors in your official documents file, research papers or assignments.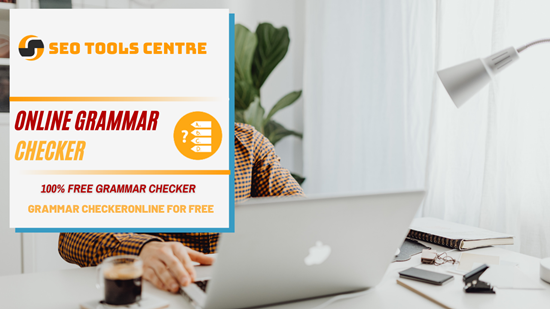 How does SEO Tools Centre grammar checker works?
Our grammar checker first analyzes the entire article/content or documents which are imported and highlights all grammar errors and spelling mistakes with colorful text. You can fix all the error by clicking one by one. It will show different option such as "ignore" and "replace" when you will click on the highlighted text. You must have to select the first option when will you click on the text with an error because the first option will fix your grammar errors. After checking all errors then analyze it for grammar using a grammar checker. If your content is fully free from grammar errors then it will "no error found". And this will give you surety that your article/content is free from grammar and spelling mistakes.
Grammar checker tool is a free tool for students, teachers and content writer that can be used to detect grammar errors and mistakes. SEOToolsCentre online spell checker is another super-fast tool and easy to use tool which allows you to detect error and mistake for different 32 languages. It's most reliable and quality SEO that is free forever.

How to use the SEO tools Centre grammar checker tool?
To use our grammar checking tool Just select the grammar tool from the home page.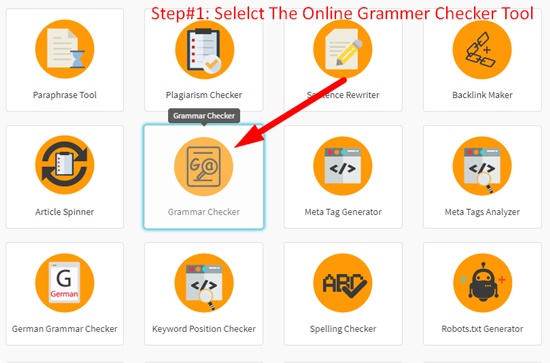 Copy and paste the text or upload the document that you want to analyze and paste it into the text area and click on the "Check Grammar" button.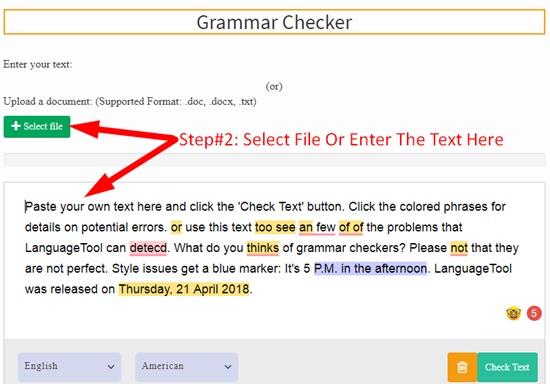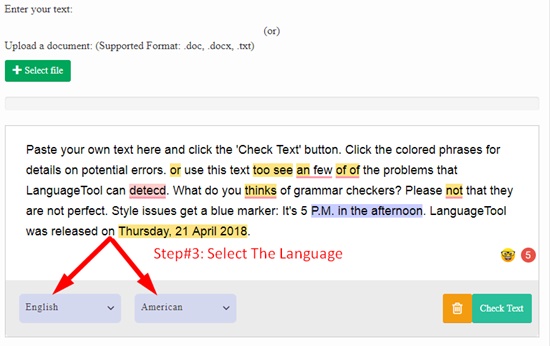 This tool will automatically highlight all spelling errors and grammar errors and punctuation with separate colors.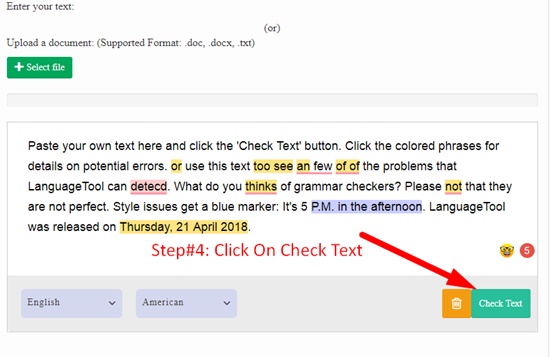 Our Grammar checking tool highlights spelling error with red and grammar with yellow and punctuation with green color.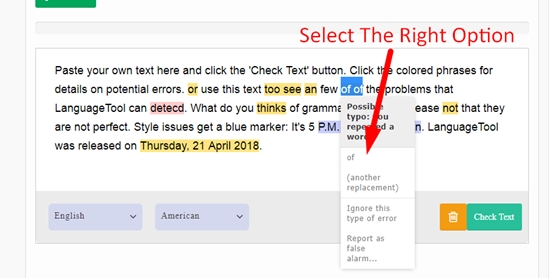 Syntax mostly highlighted in the yellow highlighted text.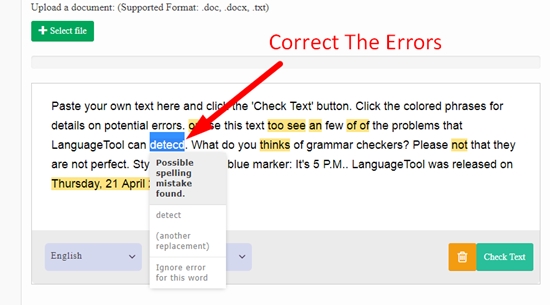 Click on the highlighted text to see the explanation for such errors. You can ignore the correction for various words by selecting the option "Ignore error for this word". Your option to delete repeated words. After selecting your favorite option have to reanalyze it for more grammar or syntax errors. Mostly, the syntax errors are highlighted in yellow. You can also fix it by doing the same step that I discuss above.
Our free grammar checking is super-fast and easy to use tool for instant grammar mistakes and error detection. It's a preferable choice. You can use this tool without installing any program or signup. You have the option to fix grammar mistakes and errors within a paragraph, short essay, formal letters, blog posts and web content.

Grammar mistakes checker is highly recommended for web content writers, bloggers, students, teachers, professional writers and for every person who wants to improve the grammar. Use this smart personal editor tool to fix your grammar mistakes confidently and improve your English writing skills at the same time.This is highly recommended for students, business professionals, bloggers, writers, and everyone who wants their grammar improved. Use this smartest personal editor, have your grammar fixed confidently and improve your English skills at the same time.

How many languages are supported by the Grammar Checker tool?
We support up to 32 languages for Grammar errors detection. You can select your native language from the given option or choose the "auto-detect" option which will automatically detect your text language. You can also translate from one language to another using same option. We support up to 31 languages for grammar mistake detection and removal. Another STC designed and launched the best german grammar checker that support to check the mistakes for the German language.
Our supported languages are:
1. Austrian
2. Belarusian
3. Breton
4. Catalan
5. Chinese
6. Danish
7. Dutch
8. English US
9. English UK
10. Esperanto
11. French
12. Galician
13. German
14. Greek
15. Icelandic
16. Italian
17. Japanese
18. Khmer
19. Lithuanian
20. Malayalam
21. Persian
22. Polish
23. Portuguese
24. Romanian
25. Russian
26. Slovak
27. Slovenian
28. Spanish
29. Swedish
30. Tamil
31. Tagalog
32. Ukrainian
Note: It's not enough to post the content with grammar free errors it can be unique also. SEO Tools Centre team also developed the paraphrase tool for paraphrasing the articles. Always analyze your content uniqueness using article checker before making it public.