Article Spinner
Paste (Ctrl + V) your article below then click Submit to watch this article rewriter do it's thing!
Welcome to the SEOToolsCentre's online article spinner which lets you spin the content in the right way. There are many ways to make money online but you have to face the competition if want to earn a handsome income. So, you have to face the million of the competitors and pull them back to earn by a website. By staying ahead of your competitors you can make your website search engine friendly.
The SEO Tools Centre Article Spinner Support The Following 7 Language: English, Spanish, German, Turkish, Dutch, French and Indonesian.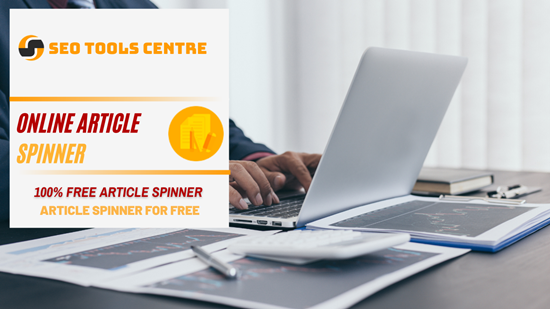 Another, if you want to show off your competitors then you have to offer the best services, content, and users interest-based content. So, you don't need to worry about the content creation process because you can speed up your content creation process up 1000% by using the article spinning tools. Now, our best paraphrase tool completely changed the game and the most complex/tough task of unique content producing/creation made super-fast as a child's play.
Why use the text spinner tool?
Every online marketer wants to boost up their business with minimum effort and little hard work. Not only you, but a large number of others are also looking for the same as you right. What's the best article rewriter/spinner? how to produce unlimited unique content for free? How to be a successful businessman? How to make online money in an easy way? SEOToolsCentre's sentence changer is also super-fast and 100% reliable to boost up your online content marketing business with a little effort.
A website with unique and rich SEO optimized content having a large number of users can give you the best ROI. The quality and readable content can attract/engage maximum organic users from Google, Yahoo, and bing. But content writing takes much time to create unique content on a daily basis. First, you need to make a decision/strategy about how to write unique and SEO optimized content with less effort. How's great if you produce the power and quality content within seconds! not in minutes! and this only possible through the best article rewriter developed by SEO Tools Centre.
Does the content spinning tool provide 100% plagiarism-free results?
Human readable article spinner tool specially designed for generating quality and fresh content. The content will be 100% plagiarism free and also can be used for website/blog and online content marketing. Also, you can use it for Web 2.0s, article writing services, and craigslist posting etc.
Why our article spinner is best overall other tools?
Recently, we have upgraded our article spinning tool and added up to 500,000 synonyms and still adding more to beat up all other online available rewriting/spinning tools. We have the aim to provide better phrased or words to make this tool more accurate and efficient. Unlike other poor and low-quality article rewording tools on the web, our tool is best and produces quality content which is 100% plagiarism free and human-readable content. This content will meet up all the standards of the content standard and quality guidelines.
How To Use SEOToolsCentre's Free Article Spinner?
First of all, go to the tool page.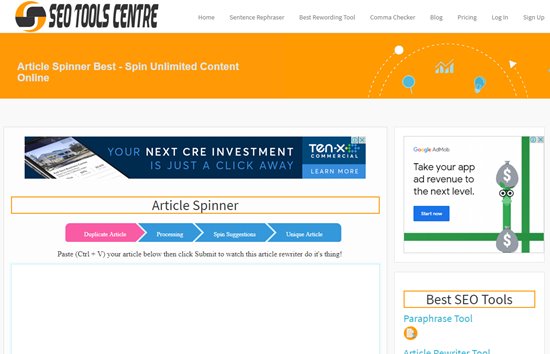 To use article spinner by SEO Tools Centre, just copy the content/article which you want to reproduce/rephrase.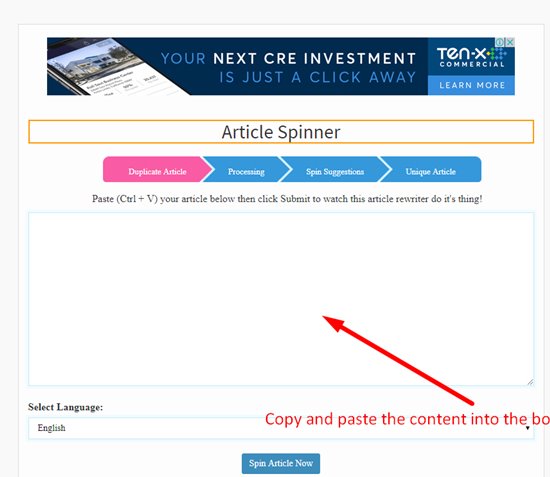 To obtain the best results, we always recommend you to copy high-quality content with the most powerful information which fulfills the needs/requirements of the users.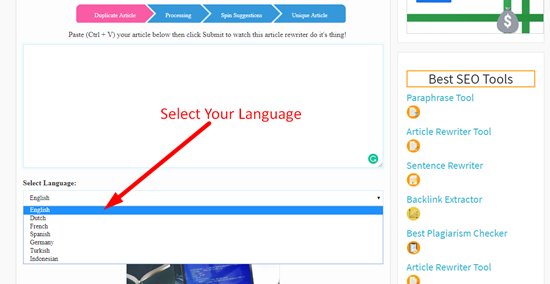 So, If you use the high-quality article for rephrasing then our free article spinner would rewrite it in the efficient way and produce the best results as much possible it with.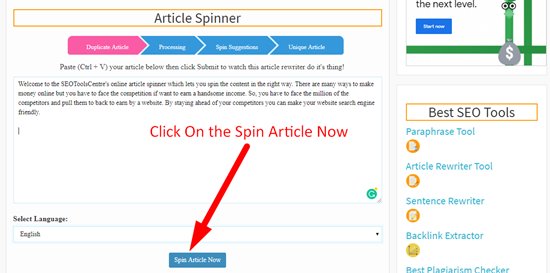 Paste your copied content into the above empty box and type the captcha and click on the "submit" button.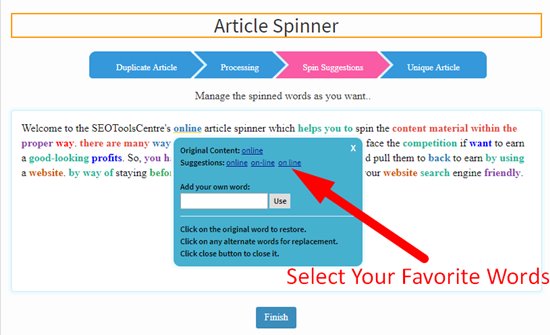 In a few seconds, this article rewriter/spinner tool will take you to the suggestion section.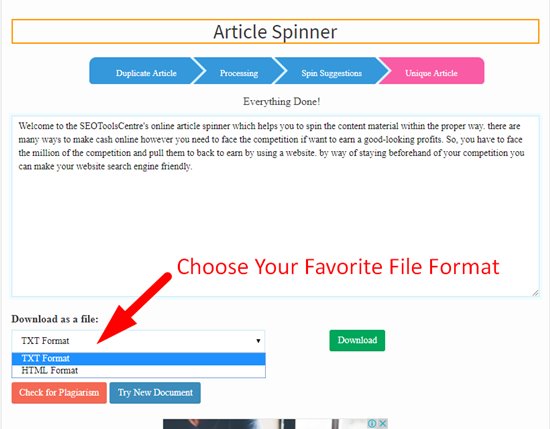 In the suggestion section, you have to choose your favorite similar words or synonyms against the existing words.
You can use the suggested words or replace with other available or keep the original words.
Why plagiarism free content is essential?
To obtain the high ranking in the search it's necessary to provide the plagiarism-free content to the users and the search engines. After the rewriting process, for plagiarism free surety you can analyze your recently produced content and click the "check for plagiarism" button to your article for duplicate issues. Your content originality results with the percentage will be displayed in a few seconds and that's done! You have successfully a plagiarism-free keyword rich article. Now you can use it for blog posting etc.
In the end, the content spinner is an awesome content spinning tool to speed up the process of content creation. After the plagiarism test, copy your content and use it for blog/website posting or whatever you want.
Article Spinner Faqs:
Is Article Spinning legal?
There are many controversies regarding whether article spinning is legal or not. Some say it is illegal but we haven't seen any cases of lawsuits against spun content. Although some might say that spinning affects the quality of the content but that's just opinion. Personally, we don't see any harm in using spun content unless the content is originally yours and you just want a different version of the same thing.
Which is the best article spinner?
Most article spinners that you find online do a pretty bad job and mess up the integrity of entire content. What you need is a sophisticated tool that is able to understand and depict the idea behind your content in different but reasonable words. That is what our free article spinner tool is for.
What does it mean to spin an article?
By spinning an article, you basically paraphrase a piece of writing into totally different words. The core idea behind the content remains intact but you get a totally new, plagiarism-free copy of the content.
How do you rewrite an article?
There are many ways to do that. You can do it by hand or you can use article spinner and paraphrasing tools. Personally, I'd prefer using paraphrasing tools as they do the job or rewriting an article within a matter of seconds. You don't have to waste time coming up with new ways to do the same thing. These tools would save you a lot of time and effort.
What does an article spinner do?
An article spinner basically takes in a piece of content and paraphrases it into a totally new and well-articulated piece of content. This way you get a unique and plagiarism free copy of the same content.
Note:
You must need to analyze grammar errors using "
Grammar Checker PRO
" and analyze it for keyword density to avoid keyword stuffing using "
Article Density Checker
". Another, If you desire to optimize your website with multiple languages then SEO Tools Centre is always with you. You can perform the content creation task for multiple languages e.g French, German, Spanish etc using SEO Tools Centre other writing tools.