Numbers to Words Converter
Welcome to SEO Tools Centre Numbers to word converter tool to convert any figure to words online. Converting numbers into words was not easy before this tool numbers to words converter. Its looks simple and super sleek that actually works accurately within seconds.
What is the Numbers to Words Converter?
There is no default function in excel that can show "numbers in words" in your worksheet so what to do now?
No need to take things seriously but have to work smartly?
Mainly excel operators use the spell-number function in a VBA module – so that they are able to convert cents and dollars to words such as $23.70 will be converted as twenty-three dollars and seventy cents.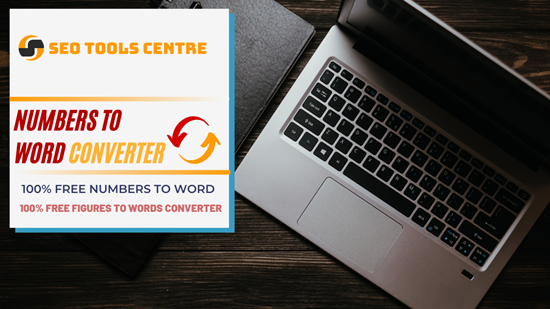 This function is best for accounting but what if you're not familiar with excel?
For this purpose, there are many tools known as "Numbers to Words Converter." These tools are working with different features but their main function is only to "convert a number" in to text.
Here we're introducing a super smart "Number to Words Converter" that can really help you out with "online number."
Let's discuss here some basic information about this "figures to words" converter and how it actually works? Its 24/7 hours availability, features, price, and much more.
Before going ahead make sure there are many other tools available online that might help you play with words such as random words generator, word changer, and word counter etc.
How do SEO Tools Centre numbers to words converter work actually?
Our number to words converter tool is user-friendly as online word counter tool and able to convert "number to text" quickly. By using this tool you can simply know how a number should be written in "The English language"?
The tool analyzes your "online number" and starts converting it into simple English text.
This tool makes your work easy and helps to convert numbers into English without any hassle. No problem whether you have any US Dollars, Indian rupee, Euro, or pound this tool will convert correctly.
SEO Tools Centre Numbers to Word Converter Features
If you want to "convert numbers" by this "words converter" then keep its features ahead. These features are well-designed and working which will never make you disappointed anyways.
100% free
Yes, this tool is absolutely free to use online that allows you to convert "numbers into words" instantly. May you have seen many other online word converter tools that take some money but why to spend? if you can have the same service for free?
Make sure not only today or tomorrow but it will remain free for always.
Multiple currencies
Often people use this "words converter" for converting their amount – likewise ($100 as one hundred dollars.) Making you know this tool is able to convert not only dollars currency but euro, Indian rupees, and British pounds also. More currencies mean more reliability.
User-friendly
Often converters look great but their overall layout is not very responsive. In order to keep your ease, we have made this word converter super easy.
Our tool is highly recommended for all as it's user-friendly so everyone can use it simply. No matter which type of device you're using like mobile, pc, laptop, tablet, or anything else, it will give you the same and accurate results.
Best for mobile users
As mentioned above this tool is highly convenient so mobile users can easily use this and enjoy their numbers projects. No problem if you've an iPhone or smartphone the tool will work the same for 24/7 hours.
How to use SEO Tools Centre Numbers to Words Converter?
Everything is simple. Let's see the given steps to understand the procedure.
Step: At first open any browser and search the main page will be open with a different category tool.
Step: Choose the tool for what you came here; "numbers to word converter" and open it.
Step: Now put your numbers in the right section and press "Convert to words key."
Step: In the next second it'll be done but make sure if you're putting your currency then choose the right one.
Once you have converted numbers into words now you're allowed to make them all set in a file like word or PDF.
To get everything maintained in your work excellence matters. Likewise creating files are not difficult but converting them might take some time so, you may go with pdf to word converters online or word to pdf online.
How do you write 1000000 in words?
The answer is simple one million, whether if you want to write 1000, 10,000, 100,000 or any other digits use SEOToolsCentre's numbers to words converter tool to get accurate wording of your numbers.
Is there any capability issue in this tool?
A big No!
This tool is authentic and works well in any browser such as chrome, opera, Kiwi, or anything else. It is working great since it was made and we're looking forward to making it awesome for upcoming years.
Can Excel write numbers in words?
Unfortunately, there is no option that can help you to convert numbers into words but you can make an individual function to convert. For more easiness prefer this tool and convert numbers into words within seconds.
Keep converting!