Htaccess Redirect Generator
---
Welcome to htaccess redirect generator tool which allows you to generate the htaccess file for your web page/site. Htaccess is a file which used to define to index/de-index the different sections (Sitemap, login, signup pages) of the website to the search engine robots with its specific rule.

Basically, this file is designed to allow/block access to search engine robots to the specified directories of a website and it's very necessary according to the search engine guidelines. Every webmaster uses the htaccess file to guide the search engine robot to index the specific pages. In htaccess file, we write some codes for crawlers and give instructions to un-crawl specified directories such as admin files and other database files.

Why use htaccess file?
It's very necessary to use htaccess because the webmaster instructs the search engine crawlers to crawl and index the content pages. It comes with default settings and placed in the website home directory and its extension with (.htaccess).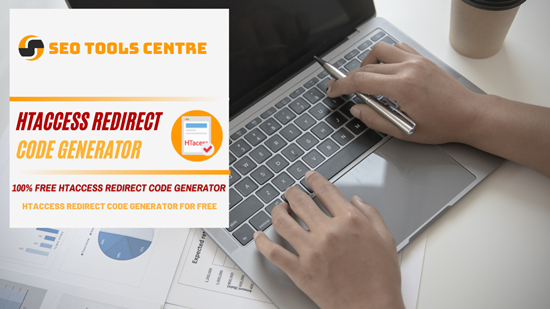 How to beat up duplicate content issues using the Htaccess file?
It's very common that search engines index the two versions of the website if you are not using the htaccess file in the right way. Search engine index the www.example.com and example.com both version and it creates the issue of duplicate/plagiarism content issue. So, if you want to be unique in the search engine then must enable the htaccess and prefer the www version or non-www version of your website.

How to beat up your organic competitors using SEO Tools Centre?
There are millions of web pages registered and you can find millions of web pages against your single word search query. So if your website is under the first ten pages then it's useless because it will not engage any organic users. Another way to provide the unique, reliable, users interest based flexible content to preferable by the search engine and fix most common SEO issue such duplicate content, sitemap, social media to obtain the first-page ranking. You can find all of your solutions at SEO Tools Centre including the URL rewrite tool to create a static optimized version of the ugly URLs.
How to use SEOToolsCentre's Htaccess Redirect Generator?
SEO Centre is dedicated to providing the user's interest based, reliable, and flexible tools to the webmasters and htaccess code generator is another one. It's very simple and easy to use. First of all enter/type your website for which you want to create htaccess file then select your preferred version e.g www version or non-www and then click on the "Get Htaccess Code" Button to get your htaccess file. Copy your htaccess file coding and paste it into your website .htaccess file. ​

Select The Redirect Type & Enter the Domain Name.

Click on Get Access Code button.

Check Your Htaccess Code & Copy.

Your htaccess 301 redirect code is ready.