Diff Checker
To use Diff Checker,Paste text into the text boxes below and click on Compare.
Check and compare the difference between text files with ease, using our free-to-use online Diff Checker Tool! This tool makes the job of comparing two different pieces of text extremely simpler for everyone.
What is Diff Checker Tool by SEO Tools Centre?
Text Comparison Made Simple! Our free online Diff Checker Tool takes in 2 different text files and compares the similarities and differences in the files. If you want to find whether two different text files have the same content or not, you can use this tool to figure that out.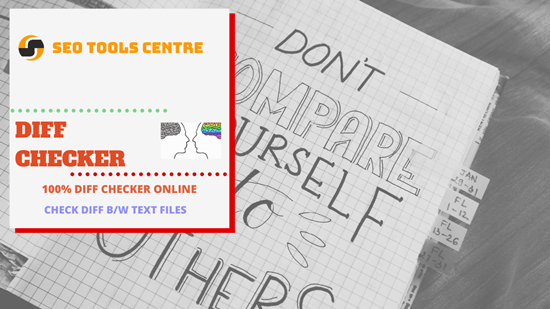 This tool is great for education professionals and for Digital Marketers who have to make advertisement copies for their audience. Using a similar piece of writing everywhere won't help you get the results that you want from your text. Use our text Diff tool to check the difference in your text document and take its effectiveness to the next level.
Why use the Difference Checker Tool?
This question gets asked a lot of the time and the answer to this is simple. Unique and new content always works better than what's been repeated hundreds of times. Whether you are talking about educational documents or web content, you need to keep generating new content if you want to stay relevant.
Now, checking the text difference manually is not easy at all. You have to compare every line to see whether it is similar or not. It can take up a lot of your time.
Instead, you can use our Diff Checker Online to upload your word documents in this tool to compare text in an instant.
Why do you need to use SEO Tools Centre Diff Checker Tool?
Remove Plagiarism from the Content
Using copied content can never get you good results. Whether you are talking about educational documents or web content, plagiarism only brings your trust down in the eyes of the reader. You need to change plagiarism and come up with something new if you want to leave a long-lasting impact. This is what our Online Text Difference Finder helps you do.
Create Authentic Digital Marketing Copies
Marketing copies need to be uniquely creative and engaging. If there are a lot of similarities in all the content that you create, your content just won't be effective. It won't stick with the minds of your audience. You need to stay true to yourself and create authentic content that shows who you truly are.
But when you have to write a whole lot of content, some similarities are bound to occur. You can use our Diff Checker Tool to tackle and remove those similarities. This way, you get to create engaging content that reflects your true values and mindset.
Best Tool for Checking Educational Documents
The Diff Checker Tool is a great software solution for teachers to grade their students. This tool allows the teachers to compare the documents of their students to check whether it is plagiarized or not. Teachers can put in the documents of 2 different students to check whether they have copied each other or not. It is quite a handy tool for education professionals.
How to Use the Diff Checker Tool?

Upload the first text file.

Upload the 2nd text file.

Click on the Compare Button.

Copy and Paste your source content in Box 1.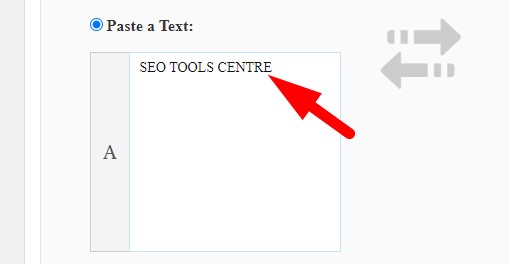 Copy and Paste your target content in Box 2.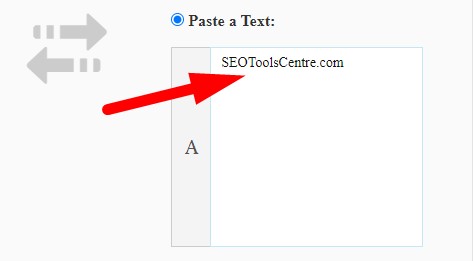 Click the compare button.

The tool will highlight the text that is different from the source and you will get the results in highlighted format.

After that, you can see what text is the same or if you want to, you can extract the different text and use it for other purposes.
Risks Associated with Plagiarized Content
There are many reasons why you'd want to stay away from plagiarized content.
Search Engine Penalties
Search Engines are quite clear about their policies regarding the plagiarized content. Search Engines like google are strictly against plagiarism and if a website uses plagiarized content, Google can ban it. Google offers warnings for using plagiarized content and if you don't want to get a penalty, we suggest you avoid plagiarized content at all costs.
Difficult to Rank a Website
The websites that have plagiarized content, even if they don't get banned, search engines don't rank them on the top. Search engines prefer sites that have unique and original content. And if you are not creating content that the search engine is looking for, you won't get the results that you want. Not to mention the fact that it will have a really bad impact on the website ranking.
Plagiarized Content Can Get you in A lot of Trouble
We have talked a little bit about how plagiarized content can get your website in trouble. It can also affect your grades at the school, college, and university level. If you use plagiarized content and your teachers find it out, you can lose a lot of grades because of that. There are all sorts of troubles that you can get in if you choose to use plagiarized content.
Ethical Dilemma of Using Plagiarized Content
Using copied content is just like stealing. You steal someone else's effort and present it as your own. At a subconscious level, this fills you up with a sense of guilt because you know you don't deserve the praise that you are getting. In time, these feelings can build up to be quite a massive burden on your mind. So, if you want to avoid all that, then make sure to create unique content that reflects your efforts, using our Diff Checker Tool.
Benefits & Features of Text Difference Finder Tool
Let's talk a little bit about the benefits that you get with using our free Online Diff Checker Tool
Free Document Difference Checker
The Diff Checker Online offers you a free way of comparing two different text documents. This tool works just as well as paid online tools and offers you the most impressive performance for free. The reason why we have made this tool free is that we want to promote the use of unique and authentic content for everyone.
Easy to Use Diff Checker
The interface of this tool is quite simple in terms of navigation experience. We have added the features for simply typing in the content, as well as uploading 2 different files for text file comparison. You can go with any of the methods that work the best for you.
No Registration Needed
This tool is registration-free. Meaning, you don't need to create an account here for using this tool. You can simply just go on and visit our website, find the Diff Checker tool and start using it as per the instructions.
100% Accurate Content Report
This tool is amazingly accurate at identifying differences in the content. We have used this tool on multiple platforms and with different lengths of content, it has delivered a great results for all of that. If you want accurate results for the content that you want to compare, then this is the tool for you.
Super-Fast Performance
This tool has been tested and verified for its performance. We tested it under different network conditions, and it has delivered an impressive performance on all of them. This tool gives you instant results about the similarities and differences in a piece of content.
Diff Checker by SEO Tools Centre FAQs
How to use SEOToolsCentre Diff Checker?
Copy and Paste your source content in the First Box.
Copy and Paste your target content in Second Box.
You can write content manually if you want to.
You can also choose the upload file options to Upload Text Docs.
Click on the Compare Button on the tool.
The tool will highlight the text that is different from the source.
How does Diff Checker work?
This tool takes 2 text files as input, a source, and a target file. It compares the text in the target with the source and gives you the text that is different as the output.
What is the best Diff checker?
The Diff Checker Online by SEO Tools Centre is the best Diff Checker in the Market. This tool is free, simple, fast, and extremely efficient. Plus, you can use it without registration, which makes things even better.