Credit Card Generator
To use Credit Card Generator, Select the Language & Number of cards and click on Generate Button. It will create fake credit card info that works for india and other countries.
Use the Credit Card Generator by SEO Tools Centre to generate valid credit card details that you can use for various verification purposes online. Our Random Credit Card Generator is a powerful tool that would generate info that would work for many countries.
What is a Credit Card Generator Tool?
The valid credit card generator India is a software program that helps you generate credit card details that you can use for testing purposes online. The details generated via this tool are valid and work in most countries in the world. Many eCommerce business owners are using this tool to ensure that they process credit card details in the most accurate and efficient way.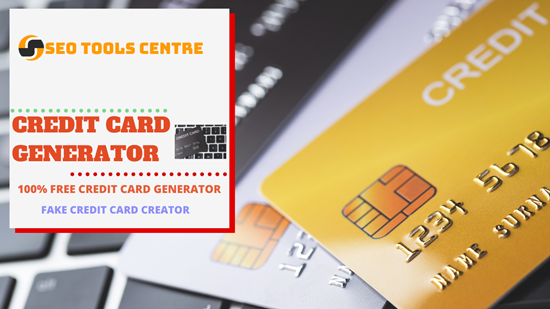 There are many online marketplaces that require you to add your credit card details before you can check out the products that they have to offer. When you are just surfing the web, it doesn't make sense to just give away your personal information like that.
This is where Credit Card Generator Tool comes into play!
This tool generates real credit card values for you that you can use for different verifications and to get access to premium quality products and services.
Is using a credit card generator illegal?
If you are using it for testing purposes and for other legitimate uses, to maintain your privacy then you can use the Credit Card Generator. There won't be any kind of legal risk associated with using the Fake Credit Card Numbers generated by this tool. But keep in mind that there will be serious implications for the user who tried to use the generated credit card details for fraud.
Do credit card generators really work?
Generating credit card details have never been this easier! There are a lot of fake credit card generator tools online that you can use for this purpose. These tools do work when it comes to generating valid credit card info. You can use these tools to generate fake credit card numbers, the CVV code as well as the expiration date and all the other information needed for a card to work for online verification purposes.
The credit card generator by SEO Tools Centre offers you options for generating multiple credit card details in one go. You can use different settings to create as many cards as you want.
Is it illegal to use a fake credit card for free trials?
The primary reason why you need to check out the credit card generator tool is for accessing free trials for different apps and games. When you are not sure whether you should go for a certain product and service, then you can try out their trial version to see whether it would work for you or not.
Since you are still using the details just for testing purposes, it won't come under illegal activity. But if you keep doing this, again and again, you can get in a lot of trouble if that service identifies who you are.
SEO Tools Centre Fake Credit Card Generator – Best Features
Generate Valid Credit Card Numbers
You can use the Credit Card Generator by SEO Tools Centre to generate fake credit card numbers that you can use internationally. The main idea behind this tool is to allow you to bypass verifications set up by online marketplaces. This way, you'd be able to surf the web any way you'd like for free. After generating the credit card number you can verify or validate credit card online using our credit card validator for free.
Generate Fake Card Details
This tool does the job of creating all the essential card details in a fast and accurate way. With this tool, you can generate Expiration Date, Identification Number, and so much more. It uses the Luhn Algorithm to generate valid credit card details that work everywhere.
Best suited for Testing Purposes
You can use this tool for eCommerce payment testing purposes and for ensuring transaction safety for your online store. This tool allows you to surf the web freely, without having to worry about providing your personal credit card information everywhere.
Free to use
The Credit Card Generator Tool is free to use as an online average value calculator. You can use this tool to generate as many cards for yourself as you'd think. We have kept the user interface of the tool simple and user-friendly. We have also given a complete usage guide for this tool that you can consult if you are having trouble using this tool.
Legal and Safe
You don't have to worry about legality issues with this tool. It is safe and perfectly legal. You can use this tool 24/7, without any worries. It works on PC as well as mobile web browsers.
How to use SEOToolsCentre's Credit Card Generator?

The Credit Card Generator page will be displayed.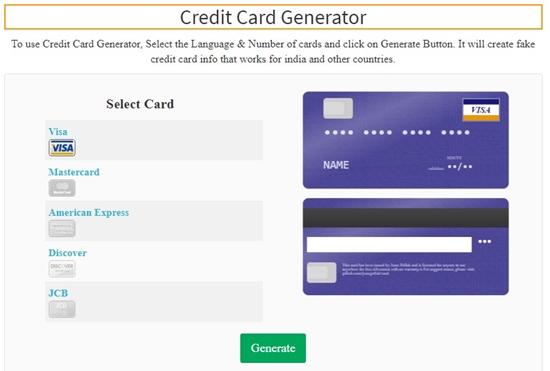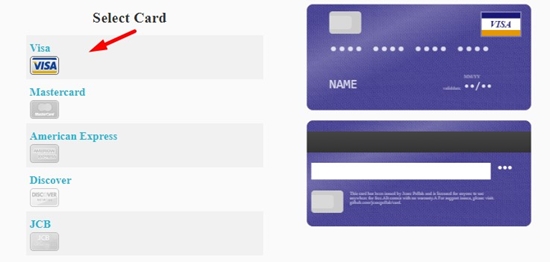 The Credit card will be displayed within seconds with name, expiry date and CSV code.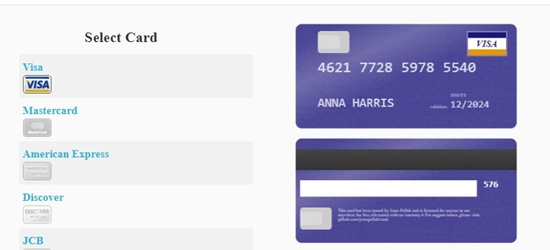 You can also choose the Random option which would automatically generate credit card details for you based on Luhn Algorithm.
CC Generator By SEO Tools Centre FAQs
How Fake credit card number generator works?
Fake credit generators use the Luhn Algorithm to generate legitimate and valid credit card details. The details generated work on all legitimate online platforms. This tool is a powerful option for people who are concerned about their personal information and are anxious about sharing it online.
Is using fake credit card info illegal?
This depends on the kind of use that you are going for. If you intend to use this card generator for testing purposes, then it is legal. If you intend to use it for fraudulent purposes, then it is illegal and punishable in the eyes of law.
Is a credit card generator illegal?
The Card Generator is a legal tool that works like most of the online fake credit card generators that you find out there. This tool is for testing eCommerce payment machinimas and to make them more secure for the users.

Do fake credit card generators work?
Yes, you can generate valid credit card info with the Fake Credit Card Generators that you can use for various purposes online. These details are most commonly used for testing eCommerce platforms.