Text Compare
To use Text Compare, Paste Urls or texts in the input box given below and click on Compare Text Button.
Add the text in the above boxes to check the similarities between them.
What is Online Text Compare Tool By SEO Centre?
Welcome to our free-to-use Compare Text Online Tool. This tool will help you find the similarities and differences in the input text.
This tool is great for generating unique content. You can use this tool to identify duplicate text and change text online to create a completely unique piece of content.
This tool is great for academic purposes as well as for content marketers. This online text compare tool will compare 2 different documents side by side to find out the differences in them.
This tool is easy to use. We have made the user interface simple and interactive so that everyone may be able to use this tool without much hassle.
There are a lot of text comparison tools out there. But the Compare Text Online tool by SEO Tools Centre stands out in that it is fast, accurate, and efficient.
Check Duplicate Content in Two Files or URLs
This tool will allow you to compare 2 different files containing texts. You can compare a word document with another as well as 2 different PDF files.
The best feature of this tool is you can even compare 2 URLs with it. You just need to add the URLs for 2 different web pages, and it will compare them to give you a complete report of their comparison.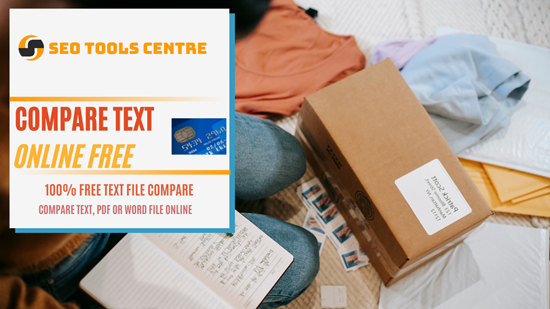 This is useful for web content creators who want to generate unique content free from the source that they are drawing inspiration from.
Also, webmasters can use this tool to check for duplicate content so that they can identify plagiarism between 2 files before publishing it on any online platform.
Plagiarism Checker vs Plagiarism Comparison: Which is better?
Compare Text Online works a lot differently than a standard plagiarism checker. It compares 2 text files to identify similarities and differences between them.
A plagiarism checker checks the input text against millions of sources online.
So, if you want to check plagiarism in general, you need to use a plagiarism checker for that.
The seo tools plagiarism checker by SEO Tools Centre will allow you to check for plagiarism in a piece of input content.
The compare text online tool is used to compare 2 different files. Which makes it a lot different than a plagiarism checker. In fact, the comparison features are what make this tool an excellent choice for academic use as well.
How to Use the Compare Text Online Using SEO Tools Centre?
There are different three methods to compare text online using SEOToolsCentre's text compare tool.
Compare two text files online using SEO Tools Centre [Method #1]
First of all, go to the compare text tool.

Here is how you can use the online text compare tool first upload your first text, PDF, or MS Word File.

Upload the 2nd text, pdf, or Word file.

Click on the Compare button to get results.

Compare two URLs online using SEOToolsCentre [Method #2]


Click on the Compare button.

Get your URLs Comparison results.

Compare different text online using SEOToolsCentre [Method #3]
Enter the text in the first box.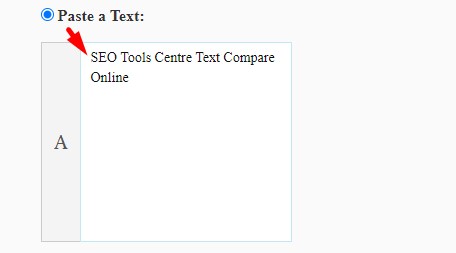 Enter text in the second box.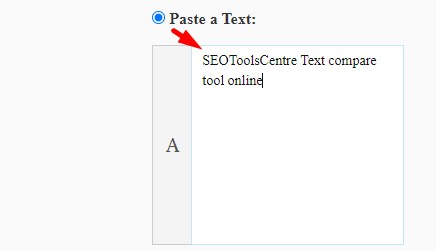 After that, click Compare.
The tool will compare documents for you. You will see the comparison report in a few seconds.

This is how you can use this tool to compare text online.
If you want to check the difference between texts, you can use the Diff Checker Online tool by SEO Tools Centre for that. It works quite similarly to the compare text online tool.
Benefits of Online Text Compare Tool
Free Text Comparison
This Text Compare Tool is free to use and doesn't require you to sign up or pay for any kind of monthly subscription. We have made this tool free for webmasters, content creators, as well as academic professionals. You can use the free features of this tool 24/7 to create completely unique content for yourself.
Fast & Efficient Text Compare
The thing that makes the performance of this tool stand out is its fast performance. It is among the fastest text comparison tools that you can find out there. It doesn't matter that kind of file that you put in it. The tool processes everything in a fast and swift manner for you.
Easily Compare Two Documents for Plagiarism
This tool is designed to help you compare two different files easily. You just need to put the files or the contents of the files in this tool and then let it do its magic. The tool is going to analyze the text for you and give you complete results in terms of the differences and similarities in the text.
Supports Multiple File Formats
The biggest reason why we recommend this tool is because it supports all kinds of files. You can use it to compare PDF files, compare word documents, and compare text documents. There are not many tools out there that offer you this level of performance.
Document Similarity Checker with Phone Support
This tool is compatible with mobile web browsers as well. It has been optimized to work on smartphones. This gives you an unparalleled user experience that you just won't find anywhere else.
No Registration Needed
The biggest reason why we recommend this tool is that you don't need to register yourself on our site in order to use it. You can simply just look up this tool on our site and use it without going through the hassle of registration.
SEOToolsCentre's Text Compare Tool FAQs
How To Compare Two Text Files?
Put the two text files in our tool and click on the compare button. Our tool will compare the files and give you the results of the comparison.
How Do I Compare Two Texts?
If you want to compare two texts, you can use the Compare Text Online tool by SEO Tools Centre for that. You just need to input the text you want to compare in this tool, and it will give you the results of the comparison.
How Do You Check the Similarity and Differences Between Two Texts?
You can check the simulate between two texts by adding them in our free to use text compare tool. This tool highlights the similar and different texts in the given piece of content.
Is Text Compare Safe?
Yes, the Text Compare Online tool by SEO Tools Centre is safe to use. It doesn't save any of your input data on the servers. You can use this tool without worrying about the safety and security risks.
How Can You Tell the Difference Between Text Messages Online?
If you have two different text messages and you want to check the differences between them, you can use the Compare Text Online tool for that. Just copy and paste both texts in this tool and it will tell the difference between text messages in just a few seconds.