Spelling Checker
Enter your text:
(or)
Upload a document: (Supported Format: .doc, .docx, .txt)
What is Spell Checker Tool?
Spell Checker is an amazing gift from the SEO Tools Centre to its users. It is the tool that helps you create high-quality content with no spell mistakes for your site or project. Spell mistake is the most common error that has been found in documents there is no excuse accepted for this. It is the common mistake which even done by the most experienced editors that overlook the spell mistakes.
It is a human and to get rid of this error you need a tool that can help you in this and make your document free from the spelling and grammar mistakes. This tool finds out the miss spelled words and enables you to correct them.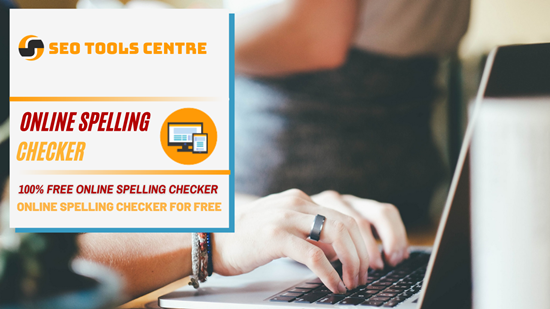 Contents are the essential core of ranking in the Google. When you have good content that is for the reader, then Google will automatically give you preference and show your article to the audience.
As the high-quality contents are the key to getting ranked correct spellings likewise are the key to create high-quality text for your website. This Free Spell Check online tool will do your work and provide relief from the hard work.
Why use online spelling and grammar checker tool?
There are numerous reasons as well as benefits of using this tools. One of them is that it is the tool that is introduced by the most famous and reliable tool station which is SEO Tools Centre that contains tools related to SEO that help you in ranking your site in the search engine. The essential reason to use this tool is that this words checker tool is the most reliable tool available online to run your business.
It is simple and easy to use this, and this online spell checker is totally free to use.
How does SEO Tools Centre spell check work?
When you put your text into this words mistakes finder tool, it starts analyzing the contents available and starts checking the spelling of the phrase by comparing them with correct spelled words.
After that, it highlights the miss spelled words with suggestions and allows you to make your document free from spelling mistakes. It is a useful tool and is 100% reliable as it contains millions of words with correct spelling in his dictionary that makes it more excellent.
Spelling Checker FAQ
How to turn on spelling checker in word?
In most cases, word has default setting for checking spellings. If it is not enabled then you can enable that by going to files then options and then check the check spelling while typing option.
You can also use our free spelling checker tool to check selling for your word document.
Spell checking of word document is quite useful. You can enable it in many ways. You can either do it inside word or you can do it using different spell checking tools as well. Just put your content in spell checker software and it would take care of the rest for you.
Is it spell Check or spellcheck?
Spellcheck is a built-in feature of Microsoft word that checks the spelling of a content at run time i.e. at the time of writing whereas spell check is done by spelling checking tools that you find online.
How does a spell check work?
Spell check is performed by spelling checker Softwares. What you do is, you simply out your content inside a spell checker software and it goes through the entire content to find spelling and grammatical mistakes.
How do I get spell check on google?
Many websites offer spell checking extensions that detect the spelling of your content on web browsers. You can install such extensions on your Google Chrome browser and it'd let you know of your mistakes in the content. Most common example of such extensions is the Grammarly extension.
How to spell check in Microsoft excel?
You can spell check in excel in one of two ways
By hitting F7 on keyboard
By going to review tab and then selecting spelling from the Proofing group
How to use this tool?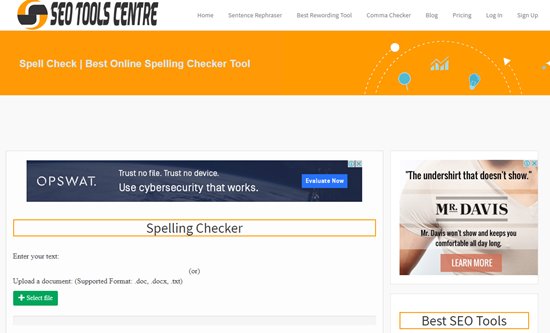 You just need to paste your content into the given box.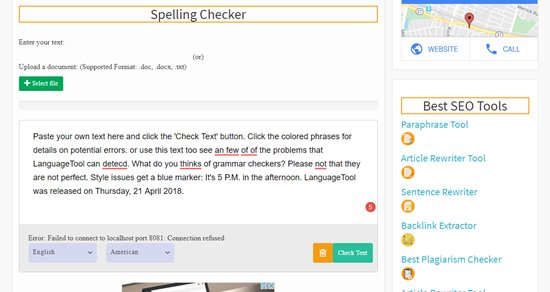 Select the "select file" button.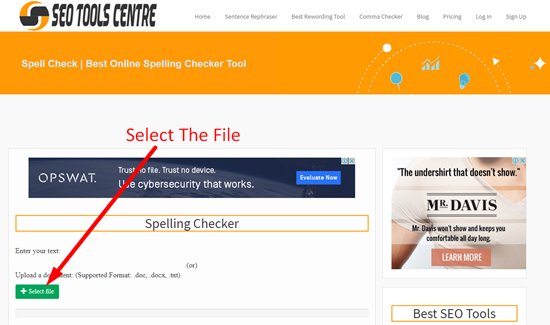 And then select the "language".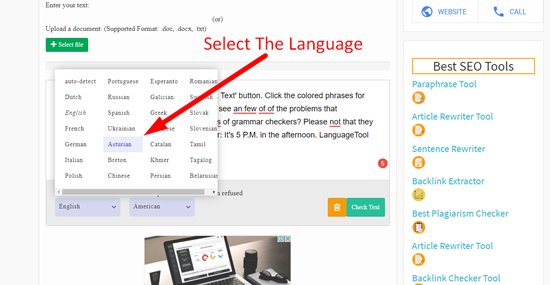 This spell check online tool will start checking your text and will give results with misspelled words in no time. It starts counting the words and characters in the contents and checks the grammar. After analyzing the whole article, it highlights the mistakes with suggestions.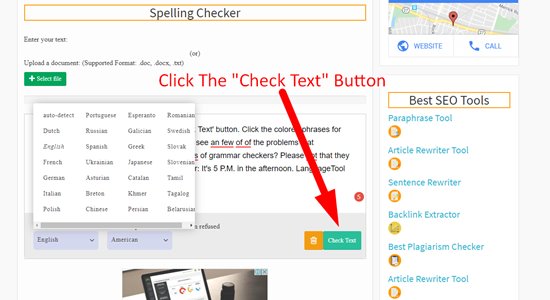 SEO Tools centre is the one of the best SEO tools station that contains all the latest tool that help you to grow your business and show it in the Google at first numbers.