Meta Tag Generator
What is Meta Tag Generator?
It is a tool that will provide you tag for your website. It is reliable and generates easily searchable tags. Facilitation is provided to index properly into search engines like Yahoo, Google, and Bing by Meta Tags. Meta Tags are tags that have hidden HTML Tags that help indexing and ranking as well. By using an online meta tag generator tool you can create supported Meta Tag for your website, it also makes sure of using keyword properly.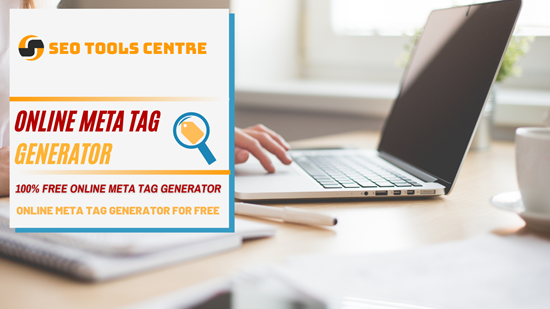 This tool not only helps you to create Meta Tags automatically for your website but also help you to stay one step ahead in the competition. You can achieve a better position with similar keyword just by using Meta Tags generated by online Meta Tag Generator.

Why to use best meta tag creator tool?
The answer to this question lies in the first paragraph, but there are some other points that make this tool important for use. This Meta tag generator tool is free of cost and an online tool that you can use any time at any place.
Results or Meta Tags generated by it are the most reliable tags because it is the best tool to generate Meta tags and used by thousands of Webmasters. This tool is offered by the SEO Tools Centre which always provides users friendly tools like this one.
It also enables you to generate Meta Tags in multiple numbers easily. It will generate related Meta Description and Tags and help you even if you are not good in SEO and learning the basics.

How does meta tag creator work?
This online Meta Tag generator tool works on a very simple rule. It requires some little information to generate Meta tags and description for the website. When providing some keywords, it will start generating outstanding Meta Tags that will help you in getting higher rank in search engines like Google, Yahoo and Bing. It works by the data provided by you that is needed to generate description tags. On the other hand, you can use the meta tags analyzer to check that you have entered the meta tag correctly or not.

How to use this tool Offered by SEO Tools Centre?
It is very easy to use Meta Tag Generator tool offered by the SEO Tools Centre. You have to give some information about your website like Site title, Related Keyword, related description. Then it will ask you to allow robots to index your site and to follow all the links after that select the primary language and type of content that you want to display on your website. Then click on the button generate tags to get your Meta Tags.

If you want to rank your website according to the keyword of your choice, then you need to get highly rated description tag that can only be provided by this Meta Tag generator tool Offered by the SEO Tools Centre. Even a person who does not have good knowledge of SEO and is learning the basics of SEO can rank his keywords with the help of generated tags by this tool. SEO Tools Centre always believes in providing you with best SEO tools from its platform.