Are you looking for an easy way to separate your plane textual data or column data with commas? You are at the right place. The Free Online Comma Separator Tool by SEO Tools Centre is all you need to take care of the job. You can separate words and even columns of data with commas or other delimiters of your choice with this tool.
SEO Tools Centre's Comma Delimiter Online Tool Features
You can quite literally find dozens of comma separators online by doing a simple Google Search. What sets our Comma Separator Tool apart, then?
Our Online Comma Separator Tool offers you the most comprehensive solution similar to the comma checker and this for converting your plain text data into comma-separated information that you can use as per your requirement. We have tried our best to make this tool as simple and as easy to use as possible.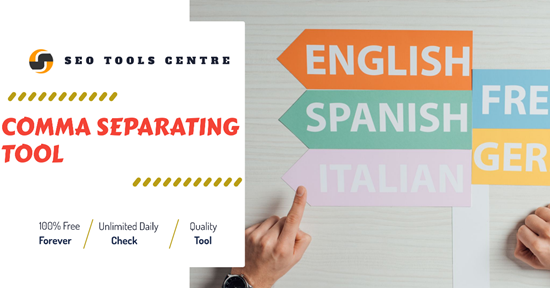 The user interface of the tool is quite amazing. All the UI elements are self-explanatory, and you won't have any kind of problems processing data with this tool.
This tool takes the ease of data processing to a step further by offering you many kinds of delimiters that you can use. You have the standard comma, as well as the semi colon, pipe sign and even new line as delimiter that you can use.
Why Use Free List To Comma Separator?
If you have to deal with massive amount of raw data on a regular basis, then we don't need to tell you probably already know the benefits that you can get with this comma separator tool. This tool helps you organize your data in the comma separated words format that you can use for further processing.
With this tool, you can create SQL queries or take data from a CSV file and easily convert into an array of data that you can use for your next data processing step. These are just some of the benefits that you get with this tool.
Free Online Comma Separator by SEO Tools Centre is a free comma delimited tool, meant to enhance your efficiency when dealing with large amounts of data.
How to use SEOToolsCentre's Free Online Comma Separator?
Write your text in the given Text Box
You can also Copy & Paste the Text if you want to
Choose the delimiter that you want to use (Comma, Semicolon, Pipe etc.)
Click on the given Button to Start Processing
The process is going to take a few seconds (Depending on the text that you have added)
The result after processing would be shown in a new text box
That's all there is to it. You can also use this tool to convert a list to comma separated words. This tool also works in reverse direction, as un-delimiter to delimiter converter.
Online Commar Sperator Tool FAQs
What is delimiter?
A delimiter is a sequence of one or more characters use to specify the boundaries between independent, separate regions in the plane text or any kind of data stream. Comma character and semi colon are one of the most commonly used delimiters out there.
How to Convert Column to Comma Separated List Online?
You can use an Online Comma Separator Tool for this purpose. There are many tools online that allow you to convert column data to comma separated list online with ease.
How to convert excel column to comma separated list?
You can use the Free Online Comme Separator Tool by SEO Tools center to add comma to separate your Excel data. Once you have added the data, you can use the tool to convert the data into the comma separated list or other data formats.
How do you separate commas?
You can either manually separate commas, or you can use an online comma separate for that purpose. Free Online Comma separator tools make it easier for you to separate commas in plane text.
What countries use decimal separator commas?
Below are some of the countries that use commas as decimal separators
Albania
Algeria
Brazil
Greece
Chile
Turkey
Vietnam
Denmark etc
What does comma delimited mean?
Comma Delimited is a method used to separate data with commas. The comma is called a delimiter in this particular case.
How to use the comma separator?
Using the Free Online Comma Separator by SEO Tools is quite simple.
First of all, go select the list to the comma converter tool.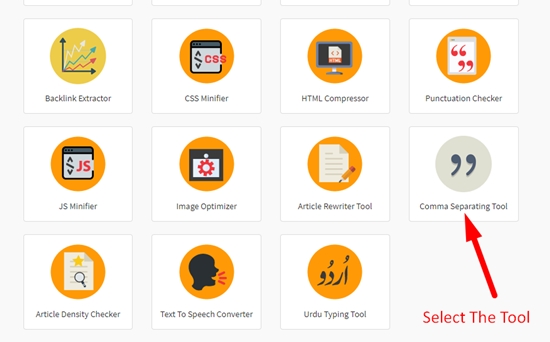 With this comma adder online, simply just write in or copy/paste the text that you want to separate by comma.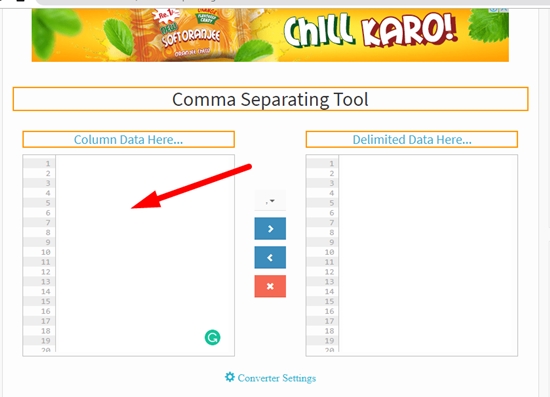 Choose your parameters for separation and the tool would take care of the rest.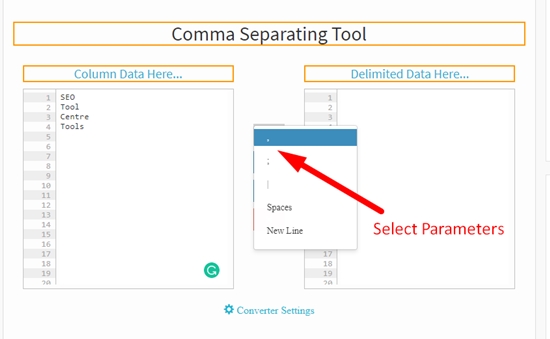 Click the submit button to convert the list to comma separated.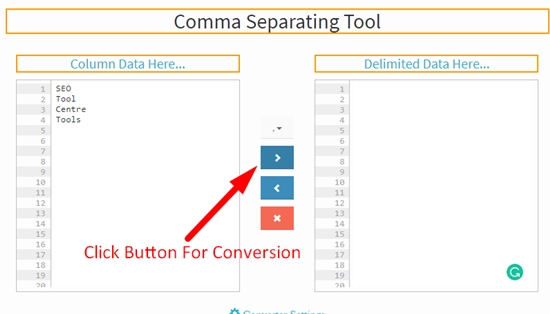 Click the select button to select and copy the converted text.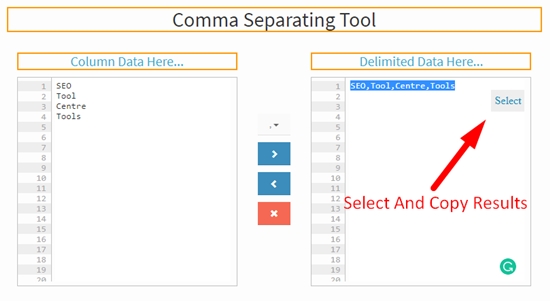 Click the cross button to erase all the contents.