Terms & Conditions Generator
Similar to the about us and privacy policy page often we see a terms & conditions page for specific WebPages, apps, online stores, etc. like if you've any of these then it needs to be included a term & condition page as well.
The problem is how to generate without a writer
Instead of its complexity, you can quickly generate a simple, sleek, factual terms & conditions part of your business blog.
But how?
Here we have designed an amazing "Free Terms and Conditions Generator," which works ideally and gives an appropriate page. Online we may have a wide range of multiple content generator tools, such as Free Privacy Policy Generator, but no one is trustable.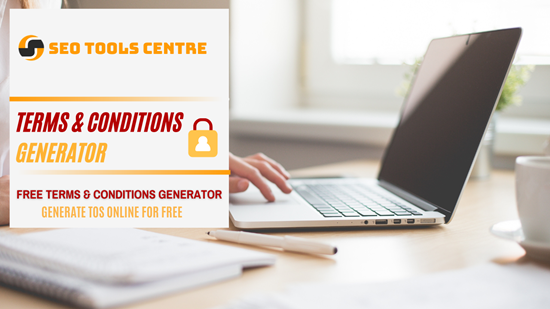 By keeping terms and conditions' needs ahead, we've launched an advanced tool that is easy to use and enough to make your deed fulfill.
What is in this tool? How does it work? And what is its importance? Everything is detailed here, so read till and get the idea but before let's start with the most frequently asked questions by beginners.
Do I need to add terms and conditions to my website?
Yeah, obviously you do!
Not only online business platforms but blogs, webpages, apps, and all online corners must include their own terms and conditions to abide by the (DCR) digital commerce regulations. They have to explain enough details of their company, service, products, brand, or anything else they have on the internet.
Without copying any other person's terms & conditions, it is always better to include unique terms and conditions in your websites you can review the Google terms and conditions samples before writing terms and conditions. It is essential to gain your audience's trust. The propagation of blogs allows human-made content primarily along with the most consistent offense laws it simply means that it's more imperative than you think.
Through terms & conditions, owners could prove that they've made everything legit here without implementing third-party's content that might hurt anyone's privacy. Every content is well written and designed naturally and gives authentic information. Likewise, from the direct instructions to the layout, everything is a human creation and made for the audience's virtue.
It will help you to make users understand the limitations of how they can use the given information and for what? Often people copy the entire content and use it in their own WebPages, but if you already alert them not to use such kind of text, images, videos, music and etc that you're having then hope it will stop them and your property will remain secure.
There are many reasons behind the inclusion of terms & conditions and these could be;
Content protection
To prevent abuses
To end accounts
For legal liability limitation
To set a governing law
Look how these all are important and concerning with terms & conditions. Either if you're running an online business or blogging then, still you'll need a terms & condition page, which is easy to generate with the tool we're offering here, "terms and conditions generator for business." It will give the same service for blogging and business it is also called a "terms and conditions generator for bloggers."
How do I get free terms and conditions for my website?
Now, your entire concept is clear about terms and condition's importance, and now you have to focus on creating your own.
Keep in mind that your online business store/website is standing on particular characteristics and needs so; you've to detail each with different criteria. However, the elements you add have to be different from others.
The tool we have here will make this problem easy for you and create unique and trustworthy terms & conditions page. Make sure there is no need to spend a single penny on this tool and its subscription, but it works free for you without interrupting your weak points.
How to use the Terms and Conditions Generator Of SEO Tools Centre?
By the name some people conceptualize the complexity of this tool, but usually, it is very easy to use. No problem; it will never irritate you, whether you're a pro or a new one. Let's see how simple it is?
1. Step: First, open up google in your most convenient browser, and select the terms and conditions generator https://seotoolscentre.com/terms-and-conditions-generator from the list.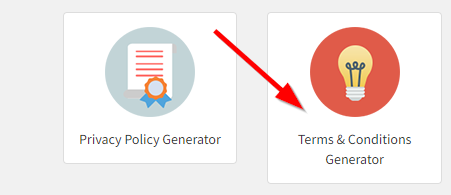 2. Step: Once you enter the SEO Tools Centre platform, you'll have (The terms and Conditions Generator online tool) in front of you.

3. Step: get enter in the tool and give all the information like – your company name, your website name, your website URL, etc and then press the (submit) button.

4. Step: After giving all information, you'll have well-written terms and condition page in a couple of seconds.

5. Step: now you're allowed to copy and use or download it as HTML. It is all up to you.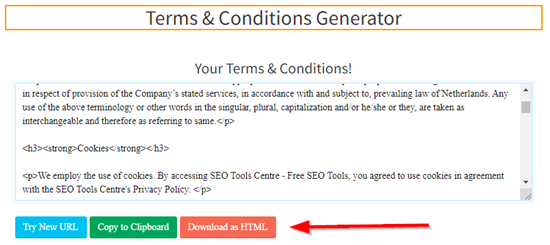 What's more, if this step of your blog is going to be easy, make sure you can use another platform tool, Privacy Policy Generator, to get a written privacy policy page.

Can I make my own Terms and Conditions?
Yes, obviously you can!
Like if you are a pro in writing then writing a terms & condition page is good to go, but if you don't, then the given tool is a good idea to proceed. After all, it is free of cost and easy to use as a tool; both features makes this tool super cool as our Sentence rewriter.
Additionally, if you want to add some sentences still, then you can write manually otherwise, our complex sentence generator will help you appropriately. Everything is available now, but the fact it's how we utilize these facilities.
The majority of people become smart and prefer writers to write terms and conditions but they don't know the majority of freelance writers also have a preference for the tools we're providing here – and why not they don't do? Because everything is reliable here.