Privacy Policy Generator
A business blog, an online store, a personal blog or an app must contain some privacy policies as a particular page. In which a developer emphasizes all the particular points that have to be private in a certain way and declares the information is written under fair use.
Often people write privacy policy pages manually whether some bloggers rephrase others' pages and publish individually. Stealing someone's writing is not a fair deal so; why not generate your own with our most advanced "privacy policy generator for website" tool?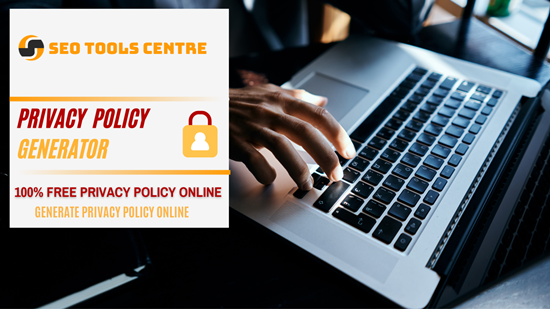 Well, what is a privacy policy of a website? Why should it be included in your website and what is a quick way to create a privacy policy? These and many other questions are going to be revealed today.
Keep an eye till end and know something beneficial on this page.
What is a Privacy Policy?
Basically, the privacy policy is such type of legal statement briefing how you're handling, collecting, processing, and even respecting customers' personal data through an app or website. The majority of privacy policies use an understandable and clear tone to confirm to everybody how a company is collecting and using data overall.
Undoubtedly a "simple google privacy policy for the blogs" is important for any digital platform where you play with words/products such as web applications, e-commerce sites, blogs, desktop apps, or many others.
There are many tools available online to generate privacy policies like a sentence rewriter through which people generate their own policies. Make sure you may also know the privacy policy with certain names like;
Privacy statement.
Privacy page.
Privacy notice.
Privacy information.
Now it's all up to you which type of title you want to choose for your company/store/service/app's privacy policy area.
Why is website privacy policy important?
A privacy policy is not only a fair way to erect the trust of people with multiple offer transparencies but it is also legally important. The majority time third parties requiring privacy policies for authentications mean more to a company. Let's have it in a deep;
Legal commitment
Digitally privacy policies are playing a vital role and exist throughout the world.
However, if your company or webpage is having international traffic then it is important to abide by local privacy laws of your own. Everything is formal even if you can get in touch with the legal obligations to your (customer base) traffic – this way you can confirm that everything is legally approved and abiding naturally.
Those who have worldwide customers or website visitors should contain international privacy laws on their digital platform to assure that it is meeting all necessary and legal requirements.
Third-party commitments
The majority of third-party services need privacy policies – for supposing a website hosting (Google ads abiding by Google's privacy policy is a must) while the post language should also meet the privacy policy tone.
Like if your blog is all containing the French language, then you cannot write a privacy policy in English. Similarly, Amazon, Facebook, Apple, and many other third parties will ask for a privacy policy.
Building Trust
Last but not very least importance of privacy policy is building trust.
Yes, it is one of the nicest ways to build the trust of your customers. Offering a clear-cut privacy policy will help you get your customers' trust. They will simply know that you are respecting their data and personal information and using it all in a fine way.
In case your app or website is not collecting any personal info, you're still allowed to consider a privacy policy anyway.
How to use the "free privacy policy generator online" tool?
Similar to our Complex Sentence Generator and Plagiarism remover tool "free privacy policy generator online" tool is also very simple to use. The given steps will make you understand it simply.
Step 1: Open your most familiar browser and open up Google.com

Step 2: Write " SEO Tools Centre Privacy Policy Generator" in the Google search bar.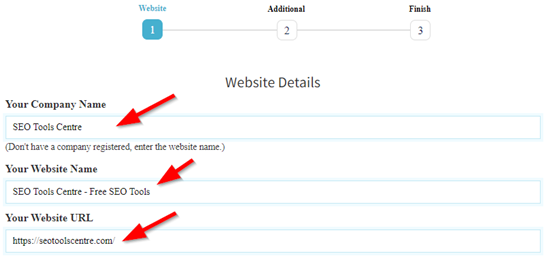 Step 3: Open the link https://seotoolscentre.com/free-privacy-policy-generator-online from the results.

Step 4: Once you enter the tool now there will be three boxes to fill with the right information like; your Company Name, your website name, and your website URL. Make sure to provide accurate info to have a suitable privacy policy page.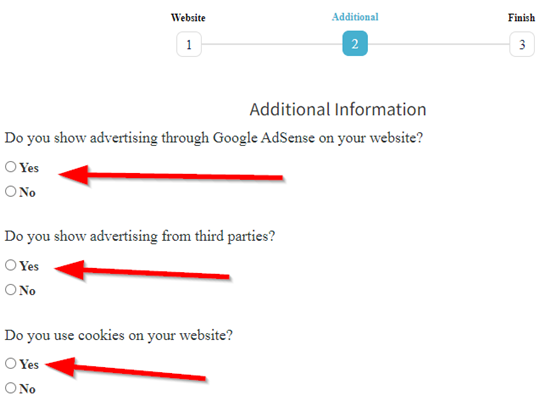 Step 5: After that, click the (continue to the next step) button, confirm three additional questions for further information, and press the (Generate) button.

Step 6: This is all for your privacy policy – within a couple of seconds, you'll have good quality and factual privacy policy page to copy and use for any purpose.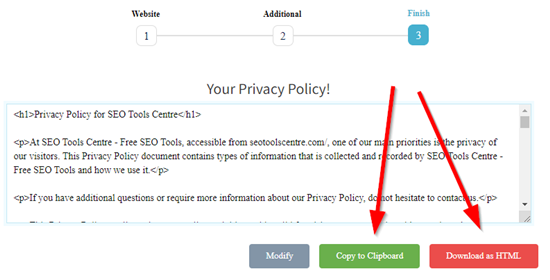 Privacy Policy Generator By SEO Tools Centre FAQs
How to create a privacy policy online?
Good question actually!
Writing a privacy policy can be time-consuming so why to waste time?
We have got an authentic "free privacy policy generator online" tool.
Yes, with the help of this tool you can use this incredible tool as a "blogger privacy policy generator" and "privacy policy generator for e-commerce websites." By using this tool everything will be done sophisticatedly and you'll get well-made policies in a fine way.
This "free privacy policy generator online" tool is free to use and available on Google so, you can simply find it and have a unique privacy policy page where everything will look professional.
Can I copy someone else's privacy policy?
Copying someone else's terms and conditions is not legal but often people use terms and conditions generator for multiple websites with a minor change. Make sure that your competitors are not free to check out their stolen terms and conditions but still, they're not allowing you to use them.
What should I write in my Privacy Policy?
After reading the entire page I think the concept is all clear what to write in the privacy policy? but if still you want to know further then come s slight down;
A privacy policy is greatly depending on a business, industry, and customer's geographical location. It must contain information regarding the business type, access, choice, and security as well.
The majority of bloggers would like to include given elements in their privacy policies.
Customer's data
Usage of information
Describing storage and protection of customer's information from hackers
The purpose of the company
Explaining multiple tools that your company is using
Providing the output data collection
Please note: All given elements are often used by U.S laws and regulations so, if you're out of the U.S or your customer range is from other parts of the world like the UK, Asia or Africa then try to include that different regional private elements in our privacy policy.